Obituary for Pamela Brown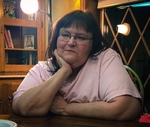 Pamela Sue Brown, age 61, of Jefferson City, Mo., passed away Sunday, August 5, 2018 at the University Hospital in Columbia, Mo. surrounded by her family.

She was born on July 3, 1957 in Lawrence, Ks. the daughter of Bertie Guy and JoAnn Marie (Bingham) Cobb. She was married on September 1, 1984 in Carrollton, Mo. to Ricky Lee Brown who survives of the home.

Growing up in the Kansas City area, she was active in the Children's Workshop Theatre when she was young. She graduated from Northeast High School in Kansas City, Mo. and later attended Maple Woods Community College in Kansas City and Northwest Missouri State University in Maryville, Mo.

Pam spent many years as a radio announcer and disc jockey. She could be heard during the 1980s on stations KTNC in Falls City, Nebraska, and KMZU in Carrollton, Mo., where she met her husband Rick. Throughout her life she always had a passion for music. She cherished time going to concerts with family and listening to her favorite bands with her husband. After moving to Jefferson City, Mo. in 1989, she worked as a classifieds representative for the Jefferson City News Tribune. She was there until her retirement in 1993.

Pam struggled with the ongoing complications of lupus and diabetes for many years. Throughout, she maintained strength, courage and a positive attitude, refusing to miss out on life.

Pam enjoyed creating things – scrapbooking, making cards and crocheting. She was great in the kitchen and loved to cook and decorate cakes. Pam collected Pez dispensers and Barbie dolls. She was an aficionado of true crime stories as well. Her fondest memories were with her nieces, nephews and family friends' children, who she loved so much.

Survivors include: her husband of 33 years, Rick Brown of Jefferson City; one sister, Shirley Ann "Annie" Nash of Kansas City, Kansas; one sister-in-law, Renee Kienzle of Independence, Mo.; one aunt, Bonnie Humphreys of Liberty, Mo.; her nieces and nephews, Sam Nash, Raquel Cobb, Joe Cobb and Brianna Hall; several cousins; her dear friend, Nicole Floyd; and her godchildren, Kelson, Bricyn and Tristan Floyd.

Pam was preceded in death by her parents; and her two brothers, Samuel Joe Cobb and James Guy Cobb.

Visitation will be held at First Christian Church from 12:00 noon until 1:30 p.m. Monday, August 13, 2018 with a memorial service immediately following at 1:30 p.m. with the Reverend Beau Underwood officiating.

Those desiring may make memorial contributions to the First Christian Church, where she had attended, or the American Cancer Society.

Funeral arrangements are under the direction of Freeman Mortuary.
Order Flowers