Obituary for James Turner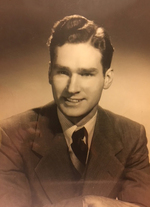 Mr. James Woodrow Turner, age 98 years, of Jefferson City, Mo. passed away Saturday, July 28, 2018 at his home.

Jim was born on November 29, 1919 in Chamois, Mo. a son of Emerson Everett and Clara (McKnight) Turner. He was married in 1940 in Chamois, Mo. to Maybelle E. Bradford, who preceded him in death in December 28, 2015.

A resident of Columbia, Mo. for the majority of his life, Jim owned and operated Jim's Paint Palette for many years until his retirement in 1996.

He was a member of First United Methodist Church in Columbia for over 50 years.

Jim was an avid collector of marbles and collecting them was a lifelong passion. He enjoyed fly fishing in many Missouri streams and was a very creative and artistic person. Most importantly, he cherished spending time with his family, especially his many grandchildren.

Survivors include: five daughters, Peggy Marrero of Columbia, Mo., Kay Stephens of Dallas, Tx., Judy Hackman (husband Gail) of Fort Myers, Fl., Jackie Miller (husband Lynn) of Columbia, Mo. and Nanette Weber (husband Chuck) of Dallas, Tx.; one brother, Robert Turner of Phoenix, Az.; 14 grandchildren; 26 great-grandchildren; and 1 great-great-granddaughter.

He was preceded in death by his parents; his loving wife of 76 years, Maybelle; one brother, Emerson Turner; and one sister, Ruth Habsinger.

A private family memorial service will be held at a later time.

Funeral arrangements are under the direction of Freeman Mortuary.
Order Flowers