Obituary for Amanda (Lesh) Eads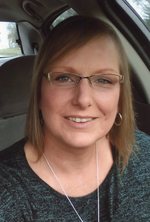 Amanda Leigh (Lesh) Eads, 40, of Jefferson City, Mo., passed away on Tuesday, July 24, 2018 at SSM Health St. Mary's Hospital surrounded by her family.

Amanda was born on December 12, 1977 in Cape Girardeau, Mo. the only child of Robert and Phyllis (Kerns) Lesh. She was married on October 7, 2016 in Jefferson City to Scot Eads.

A resident of the Jefferson City area since 1991, Amanda was a 1996 graduate of Jefferson City High School. She attended Columbia College and in January she enrolled in the Paul Mitchell School in Columbia. Previously, she had been employed as an office manager for an accounting firm.

Amanda was a member of the First Baptist Church and was baptized at the age of seven at the First Baptist Church in Fenton, Mo.

Amanda had a caring and generous nature to her friends and those in need. She had a way of making a personal connection with people that turned into lasting friendships. She was a true animal lover and cared for her beloved Pitbull, Diamond, who was not only her furbaby but also her best friend.

Survivors include: her husband, Scot Eads; her parents, Phyllis and Robert Lesh of Jefferson City; her uncle and aunt, Ken and Leslie Kerns of New Bloomfield; and several cousins.

Visitation will be held at Freeman Mortuary from 12:00 until 1:00 pm Saturday, July 28, 2018. A celebration of life service will follow at 1:00 pm in the Freeman Chapel with the Reverend Dr. Doyle Sager officiating.

In lieu of flowers, memorials are suggested to Relay for Life of Cole County or the First Baptist Church Youth Missions Fund.
Order Flowers