Obituary for Russell Rackers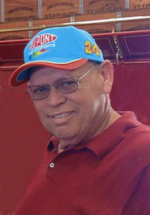 Mr. Russell E. "Rusty" Rackers, age 62 years, of Jefferson City, Mo. passed away Saturday, July 21, 2018 at Barnes-Jewish Hospital in St. Louis, Mo. surrounded by his loving family.

Rusty was born October 23, 1955 in Jefferson City, Mo. a son of David F. and Dorothy E. (Kloeppel) Rackers. He was married on June 25, 2005 in Jefferson City, Mo. to Susan K. Cochran.

A lifelong resident of the Jefferson City area, Rusty was a 1974 graduate of Jefferson City High School.

Rusty was a Maintenance Supervisor with the Missouri State Highway Patrol for many years prior to his retirement in 2016. He also worked in the family business, Rackers Phillips 66 Station, prior to the closing. During his retirement he worked part-time for All Season Lawncare.

Rusty was an avid spokesman for the National Kidney Foundation and volunteered at Capital Region Medical Center.

He enjoyed fishing and hunting, watching NASCAR and St. Louis Cardinal Baseball. Rusty loved spending time and pampering his beloved cat, Tabby. He and Susan took the trip of a lifetime to Alaska in May, 2018 and have wonderful memories from it. Most importantly, he cherished his time with his family and friends.

Survivors include: his wife of thirteen years, Susan Rackers; two step-daughters, Joanne Hatfield and her husband Ryan of Tonganoxie, Kansas and Kelly Arnold and her husband Michael of Springfield, Mo.; three brothers, Ronald Rackers and his wife Linda of St. Martins, Mo., Thomas Rackers and his wife Diane of Freeburg, Mo., and Roy Rackers and his wife Lisa of St. Martins, Mo.; one sister-in-law, Sara Clarkston of Tipton, Indiana; two step-grandchildren, Charlotte and Georgia Hatfield; two nephews, Chris Rackers and his wife Brenda and Keith Rackers and his wife Dawn; one niece, Rose Rackers; and many great nieces and nephews.

He was preceded in death by his parents, one nephew, Terry Rackers and one niece, Moana Rackers.

Visitation will be at Freeman Mortuary from 10:30 a.m. until 12:00 pm Wednesday, July 25, 2018.

Funeral services will be conducted at 12:00 Noon, Wednesday, July 25, 2018 in the Freeman Chapel with the Reverend Dr. Stephen Buchholz officiating. Graveside services and interment will be held at Hawthorn Memorial Gardens.

In lieu of flowers, memorial contributions are suggested to the National Kidney Foundation.

Order Flowers