Obituary for Sharon Hailey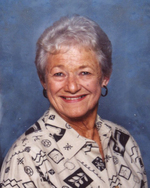 Mrs. Sharon Louise Hailey, age 80 years, of Jefferson City, Mo. passed away Sunday, July 15, 2018 at Heisinger Bluffs.

Sharon was born on April 24, 1938 in Lackawanna, New York a daughter of Earl Bryon and Betty Louise (Kerns) Conant.

She was a 1956 graduate of Bloom Township High School in Flossmoor, Il. and later attended the University of Illinois. During her time at the University, she met and later married Alfred "Al" Schmidt in 1959. Her two children were born from this marriage.

Sharon was employed as a secretary with AAA Refrigeration while living in Michigan and later as an office manager with Thill Penn Oil Company. She later moved to Texas and became a customer service representative for many years with Eljer Industries until her retirement in 2001.

On March 17, 2000 in Lewisville, Texas, Sharon married Gene T. Hailey, who preceded her in death on August 5, 2010. They moved to White Bluff, Tenn. during their retirement and Sharon cherished their years of marriage.

She was a member of White Bluff Church of Christ in White Bluff, Tenn. and a member of Fairgrounds Road Church of Christ when she moved to Jefferson City in 2012 to be closer to her son. Sharon converted to the Catholic faith in the final period of her life.

Sharon will be remembered for her caring nature and outgoing personality. She loved time with family, especially over the holidays and cooking for her grandchildren. Traveling with family and friends also provided great memories. She enjoyed visiting the Smokey Mountains, Branson Missouri, Las Vegas, beach trips to Florida and "cruising" the Caribbean and Alaska. The overseas "walk about" to Australia was also a favorite. Her creative side made it possible for her to make beautiful paintings, crafts and jewelry. Other activities she enjoyed with her free time where shopping, playing bridge, clipping coupons and watching any sporting events from golf, college basketball, NFL to Indy car racing.

Survivors include: her children, Kristen Link (husband Paul) of Chicago, Il. and Mark Schmidt (wife Mei Mei) of Jefferson City, Mo.; three step-children, Donald Hailey (wife Janice) of Spring Hill, Tenn., Gary Hailey of Smyrna, Tenn. and Laura Hailey of Madison, Tenn.; one step son-in-law, Tom Barnes of Franklin, Tenn.; three sisters, Barbara Spada (husband Alfred) of Merrillville, In., Sheila Baldwin (husband John) of Bristow, Va. and Chris Rozelle (husband Joe) of Jacksonville, Tx.; four grandchildren, Portia Schmidt, Madeline Link, Kiefer Schmidt and Ethan Link; and 6 step-grandchildren, Joseph (Joey) Hailey, Christopher Winnett, Jeremy Bayless, Jacques de Graauw III, Michelle de Graauw Smith, Daniel Hailey and 8 step-great grandchildren.

She was also preceded in death by a step-daughter, Evelyn Barnes.

Visitation will be held in the Chapel of Heisinger Bluffs, 1002 W Main St, Jefferson City, Mo. 65109, from 10:00 a.m. until 11:00 a.m. Saturday, July 21, 2018 with a memorial service following at 11:00 a.m. with Chaplain Jim Mueller officiating.

An additional visitation will be held from 10:00 a.m. until 11:00 a.m. Wednesday, July 25, 2018 with her funeral service following at 11:00 a.m. at Dickson Funeral Home, 209 East College Street, Dickson, Tenn. 37055. Graveside service and interment will be held at Harvey Cemetery in Cumberland Furnace, Tenn.

In lieu of flowers, memorial contributions are suggested to Susan G. Komen Breast Cancer Foundation or St. Jude Children's Research Hospital.

Funeral arrangements are under the direction of Freeman Mortuary.
Order Flowers