Obituary for Susan Kroeger (Bodamer)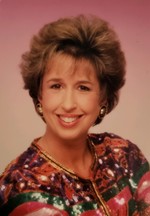 Susan Beth Bodamer Kroeger of Jefferson City, 60, passed away on Tuesday, July 10, 2018 after an extended illness.

Although tiny in stature, Susan was larger than life in every sense of the word. Her spunky personality, energetic spirit and natural gift for conversation propelled Susan into the hearts of all who knew her and those who just met her. Susan never left a room without having met and hugged everyone present. She put her heart and soul into everything she did, whether she was working, shopping, or playing with her beloved nieces and nephews. Susan loved and was loved deeply and will be remembered with a smile by all who met her along the way.

Susan was born February 24, 1958 in Jefferson City, the daughter of A. W. "Bud" Bodamer Jr. and Helen George Bodamer. She was married on February 12, 1999 to Fred Kroeger who preceded her in death on June 19, 2006.

Susan graduated from Jefferson City High School in 1976 and Missouri State University in 1980 where she was a member of the Tri Sigma Sorority. She worked for the Missouri Supreme Court, Shook, Hardy & Bacon LLP in Overland Park, and retired from the Missouri Attorney General's Office as a legal secretary.

Susan enjoyed spending time in the sun at the Lake of the Ozarks, shopping and shopping and shopping. She also had a deep love for her friends and family, country music and dancing, little children and small dogs.

Survivors include her brother, Brad Bodamer (Lori) of Lake Quivira, Kansas; her nieces and nephews, Scott (Lindsey) Bodamer of Tonganoxie, Kansas, Christopher Bodamer of Overland Park, Kansas, Kyle Bodamer of Boulder, Colorado, and Helen, Elodi and Corbin Bodamer of Lake Quivira; her step-brothers Lantie (Bert) and Donnie (Judy) Basinger of Jefferson City, and her beloved dog, Nikki.
In addition to her husband Fred, Susan was preceded in death by her parents, including step-mother, Patsy Basinger Bodamer.

Visitation will be held Wednesday, July 18, 2018 from 10:00 am to 11:00 am at Wesley United Methodist Church in Jefferson City, Mo.

A funeral service will follow at 11:00 am at Wesley United Methodist Church with the Reverend Karen Taylor officiating. Interment will be conducted at Walnut Grove Cemetery in Boonville, Mo. at 2:30 that afternoon.

In lieu of flowers, the family suggests memorial contributions to The Association for Frontotemporal Degeneration (www.theaftd.org), Jefferson City Animal Shelter or Callaway Hills Animal Shelter.



Order Flowers