Obituary for Calvin Oliver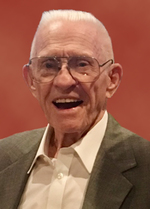 Mr. Calvin M. Oliver, age 90 years, of Jefferson City, MO, died peacefully Wednesday, July 4, 2018, at St. Joseph Bluffs surrounded by his family.

Calvin was born Oct. 22, 1927, in Wellsville, MO, the son of Fred and Ella Dorothea Maria Gastler Oliver. He was married on May 14, 1955 in Wellsville, Mo. to Beatrice Elizabeth "Bette" Laster, who preceded him in death on May 19, 2016.

A lifelong resident of the Central Missouri area, Calvin graduated from Wellsville High School, Wellsville, MO, in 1946.

He proudly served in the United States Army during the Korean War, being discharged as a Sergeant and was awarded the Korean Service Medal with Bronze Star.

Calvin was employed with Missouri Pacific Railroad from 1953 until 1982, when Missouri Pacific Railroad became Union Pacific Railroad. He retired as a Conductor with Union Pacific Railroad in 1989.

He was an active member of Trinity Lutheran Church and supporter of Trinity Lutheran School, as well as Calvary Lutheran High School. He was a member and Secretary for eight years of the Brotherhood of Railroad Trainmen, later known as the United Transportation Union

Calvin and Bette enjoyed visiting all of the lower 48 states on leisurely car trips, as well as Canada and Mexico. They also liked to visit extended family members in and around Wellsville, MO, as well as their daughter and her family in Northern California.

Preserving the Gastler family history was a long-time passion for him. He took responsibility for maintaining extensive computer records and regularly reaching out to family for latest updates, which gave him a reason to connect with people. He took pride in hand delivering the latest edition.

At home, Calvin insisted on doing most things himself well into his 80s, including climbing on the roof, gardening and playing Mr. Fix It, all while whistling through his teeth or singing old tunes. He babied every car he owned, especially, Big Red, a 2016 GMC pick-up he customized with crank windows—for an able-bodied man--and a bench seat. He was an early steward of Earth, multitasking by collecting litter on long walks and reusing almost everything in creative ways.

He modeled for his children an incredible talent for saving money and investing wisely. An avid reader and news hound, he could answer any trivia question about geography or history and was happy to coach you, if you wanted to improve your knowledge in those subject areas.

Survivors include: three children, Cheryl Oliver Schaff and her husband Charley of Menlo Park, CA, Carla Oliver Armstrong and her husband Lynn of Jefferson City, MO, and Clayton Oliver and his wife Amanda of Rock Hill, MO; six grandchildren, Benjamin Schaff, Jonathan Schaff, Claire Armstrong, Chloe Armstrong, Spencer Oliver and Ellie Oliver.

He was preceded in death by his parents, his wife of 61 years, Bette, and two brothers, Paul Oliver and Robert "Cotton" Oliver.

Visitation will be held from 1:00 p.m. until 3:00 p.m. on Sunday July 15, 2018, at Freeman Mortuary and at Grace Lutheran Church in Wellsville, Mo. from 9:00 a.m. until 10:00 a.m. Monday, July 16, 2018

Funeral services will be conducted at 10:00 a.m. Monday, July 16, 2018 at Grace Lutheran Church in Wellsville, Mo. with the Reverend Luke Wolters officiating. Graveside services and interment with military honors will be conducted at Wellsville Cemetery, Wellsville, Mo.

In lieu of flowers, memorial contributions are suggested to Alzheimers Disease Related Disorders Association, 2400 Bluff Creek Drive, Suite 101, Columbia, MO 65201.








Order Flowers