Obituary for Mary E. Suits Riggs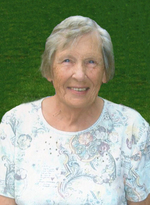 Mrs. Mary E. (Suits) Riggs, age 89 years, of Jefferson City, Mo., passed away Sunday, July 1, 2018 at Jefferson City Manor surrounded by her family.

Mary was born April 28, 1929 in Eldorado, Illinois, the daughter of Frederick A. and Emma Lorine (Thompson) Dettmer. She was married November 24, 1948 in Cottage Hills, Illinois to Wayne Suits who preceded her in death on April 26, 1983. On September 6, 1986 in East Alton, Illinois, she married Otis Riggs who preceded her in death on August 30, 2004.

Mary attended East Alton-Wood River Community High School in Wood River, Illinois. She was a member of the First General Baptist Church in East Alton and the Auxiliary of the American Legion.

A resident of East Alton, Illinois the majority of her life, Mary considered herself a homemaker and treasured loving and caring for her family. She was a gifted seamstress and expressed her love to her family by creating beautiful clothing for them. She also made clothes for her friends as a professional service. She continued her mother's passion of making handmade quilts. Mary provided many happy memories for her family and friends with her excellent ability of cooking. Her coconut cream pie was delicious and famous at church dinners where the kitchen ladies would hide her pies to eat them in secret. Her chocolate and peanut butter fudge was always a treat for her family and also for those she shared it with at Christmas time.

Along with being a homemaker, Mary was a hard worker at various places of employment starting as a teenager at the local ice cream shop (the Walnut Grove). During World War II, she was employed by Western Cartridge Company (Olin Industries) and later became a well-known checker (cashier) at the area super markets; a job she loved. She also loved working in the East Alton Public Schools cafeterias while her children were in school. Due to ill health, she moved to Jefferson City in 2007 to be close to her daughter.

Survivors include: two daughters, Beverly Baston (Roger) of Jefferson City, MMissouri and Debbie Field (Greg) of Marine, Illinois; five grandchildren, Rob Eades (fiancé Stacie Pitchers) of Highland, Illinois, Samuel Field (Liz) of Vienna, Illinois, Ethan Field (Ciera) of Highland, Illinois, Sandi Baston of Iowa City, Iowa, and Kelly Gibson (Nick) of Knightdale, North Carolina; and three great-grandchildren, Josie Gibson, Avery Field and Jude Field.

She was preceded in death by her parents, her two husbands, and her sister and brother-in-law, Frieda and Jerry Lamar.

Visitation will be held at First Assembly of God from 9:00 to 10:00 a.m. on Friday, July, 6, 2018.

Funeral services will be conducted at 10:00 a.m. on Friday, July 6, 2018 at First Assembly of God with the Reverend Lowell Perkins officiating. Graveside services and interment will follow at 2:30 p.m. at the Valhalla Memorial Park in Godfrey, Illinois.

Memorial contributions are suggested to the Disabled American Veterans or the Alzheimer's Disease and Related Disorders Association.

Funeral arrangements are under the direction of Freeman Mortuary.
Order Flowers