Obituary for Larry Ramsey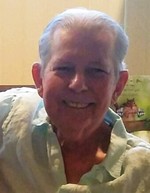 Larry Dennis Ramsey, age 70, of Jefferson City, Mo., passed away on Thursday, June 28, 2018 at Capital Region Medical Center surrounded by family.

He was born on August 24, 1947 in Kansas City, Mo. the son of Bill and Billie Jo (Beck) Ramsey. He was married on June 23, 1979 in Unity Village to Betty Sue Grant who survives at the home.

Larry graduated from Lee's Summit High School in 1968. He later attended both Longview Community College and Lincoln University in Jefferson City, Mo.

Larry was a sergeant in the United States Army and served our country in combat during the Vietnam War until he was honorably discharged in 1970. He was awarded two bronze star medals for his service.

Larry was employed with Charles E. Still Hospital as a radiology aide and then attended radiology school to work as an x-ray technician at Memorial Hospital. He later worked with TCI (known as Mediacom), ISIS Chemical Company, the Capital City Water Department, Union Pacific Railroad/Trackman, Modine and Maytag. He retired as a senior line operator from Unilever in September of 1995.

Larry had a passion for classic cars, boats and Corvettes, with his favorite being his 1985 black Corvette. He was a lifelong fan and supporter of the Missouri professional sports teams – the Kansas City Chiefs, the Royals and the St. Louis Cardinals. When Larry wasn't listening to classic rock and roll or watching classic movies, his time was best spent with his friends and family.

Survivors include: his loving wife, Betty Ramsey; his children, Amanda Ramsey of Belleview, Mo., Bruce Ramsey of Kansas City, Mo., Lacey Ramsey Hoff (husband Ryan) of Jefferson City, Mo. and Adrienne Ramsey of New Bloomfield, Mo.; his sister, Mary Griner (husband Bill) of Belton, Mo.; nine grandchildren and three great-grandchildren.

Larry was preceded in death by his parents; his step-daughter, Stephanie Vest; and his father and mother-in-law, John and Frances Grant.

Visitation will be held at Freeman Mortuary from 12:00 noon until 2:00 p.m. Friday, July 6, 2018.

A memorial service will be conducted at 2:00 p.m. Friday, July 6, 2018 in the Freeman Chapel with celebrant Gara Loskill officiating. Military honors will follow his memorial service.

In lieu of flowers, memorial contributions are suggested to the Larry Ramsey Memorial Fund or Songs4Soldiers, P.O. Box 1165, Columbia, IL 62236..

Funeral arrangements are under the direction of Freeman Mortuary.

Order Flowers