Obituary for Mildred Taylor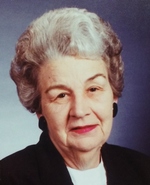 Mrs. Mildred E. Taylor, age 89 years, of Blue Springs, Mo., a former Jefferson City resident, died Wednesday, June 27, 2018 at the Shangri-La Nursing Home in Blue Springs surrounded by her family.

Mildred was born December 30, 1928 in Stoddard County, Mo. the daughter of Claude and Myrtle Parker Aslin. She was married on November 10, 1949 in Baring, Mo. to Robert W. Taylor who preceded her in death on August 25, 2003.

She graduated from Dexter High School, Dexter, Mo. prior to moving to Jefferson City in 1963.

She was employed with the Missouri Division of Employment Security for fifteen years prior to her retirement in 1983.

Mildred was a member of Immaculate Conception Church. She loved the Catholic Church, attending Mass and working at the Samaritan Center for over fifteen years where her friends called her Grandma. Most importantly, she cherished her time with her family.

Survivors include: two sons, Joseph Taylor and his wife Deb of Overland Park, Ks and Stephen Taylor and his wife Sandy of Blue Springs, Mo; three grandchildren, Bradley Taylor, Jessica Savage, and Caitlin Flanigan; five great grandchildren, Peter Taylor, Luke Taylor, Cora Taylor, Annabell Savage, and Abagail Savage.

She was preceded in death by her parents, her husband, one daughter, Claudia Taylor on March 21, 1972 and one grandson, Austin Taylor in 1992.

Visitation will be at Immaculate Conception Church from 10:00 until 11:00 a.m. Monday, July 2, 2018.

A Mass of Christian Burial will be conducted at 11:00 a.m. Monday, July 2, 2018 at Immaculate Conception Church with the Reverend Cesar Anicama officiating. Interment will be at Resurrection Cemetery.

In lieu of flowers, memorial contributions are suggested to the Samaritan Center.

Funeral arrangements are under the direction of Freeman Mortuary.
Order Flowers