Obituary for Christina Crouse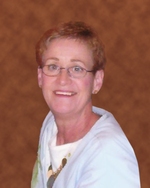 Christina Procter Crouse, 69, of Jefferson City passed away June 24, 2018, at Barnes Jewish Hospital in St. Louis, MO.

She was born January 19, 1949, in St. Louis, Missouri, the daughter of John and Christina Toman Procter, both from England.

Christina grew up in the hills of Harlan, Kentucky, where her father was Chief Engineer for the John L. Sullivan Mining Hospitals.

In 1962, her parents moved to Louisville, Kentucky, where she graduated from Holy Rosary for Girls.

She attended the University of Kentucky from 1966-1968 and transferred to the University of Missouri-Columbia in 1968 where she met her husband Rob Crouse of Mound City, Missouri.

The couple were married June 14, 1969, in Louisville, Kentucky, and moved to Graham, Missouri, where Christina earned a B.A. in radio/television/theatre in 1971 at Northwest Missouri State University (NWMSU) in Maryville, Missouri.

She continued her education while substitute teaching at area schools and earned a B.S. in elementary education in 1973 at NWMSU.

When the couple moved to Cameron, Missouri, in 1973 where Rob was teaching, she accepted a position teaching sixth-grade as well as junior high speech and drama with the Lathrop Public Schools and after several years took a fifth grade language arts, reading and social studies teaching position.

In 1981, Chris developed the Cameron gifted program and implemented the program for grades 2-7. After seven years in this position, she accepted a position as instructor of the gifted at the middle school of the Fulton School District, which she held until she retired from teaching in 2007.

Over her years with gifted education, Chris coached countless teams on to win state competitions and receive recognitions at national competitions in the Future Problem Solving and Odyssey of the Minds competitions and served as a board member and coach trainer for the Missouri Future Problem Solving Program.

She also served as a board member of the Gifted Association of Missouri for many years and helped found the Missouri Scholars Academy.

In 1996 she was a presenter at the Coalition of Essential Schools in New York and also worked as an instructor at the summer enrichment program of Lincoln University and summer academy at William Woods University.

A devout Episcopalian all her life, Chris was a lector and lay eucharistic minister at Grace Episcopal Church as well as serving on altar guild, the stewardship team, and assisting with weddings, funerals, and other special events, usually as "Commander of the Church Kitchen."

Always active in theatre, she worked as a professional stage manager at several Kentucky theaters and as a professional costume mistress and actress at the Tarkio Mule Barn Theatre; actress and costume mistress for Cameron Community Players; and actress for Capital City Productions and The Little Theatre of Jefferson City. Local audiences will remember her for such memorable roles as Agnes Gooch in "Mame," Miss Mona in "The Best Little Whorehouse in Texas," Ouiser in "Steel Magnolias," Fraulein Schneider in "Cabaret," and Miss Daisy in "Driving Miss Daisy."

Chris was a devoted wife and mother and will always be remembered for her boundless energy, larger than life personality, and wonderful sense of humor.

Chris is survived by her husband Rob of the home and son Courtney of Chicago, Illinois; her father-in-law Bob Crouse, sister-in-law and brother-in-law Steve and Deborah Loucks, niece Carly J. Edwards (Steven) and their children Jaxon Lee Edwards and Ryan Charles Edwards, all of Mound City, Missouri; as well as her niece Lauren E. Loucks (Amy) from Edmonds, Oklahoma.

The family will receive friends from 5:00 until 7:00 p.m. on Thursday, June 28, 2018, at Freeman Mortuary, 915 Madison Street, in Jefferson City.

Funeral services will be at 10:00 a.m. on Friday, June 29, 2018, at Grace Episcopal Church of Jefferson City, 217 Adams Street.

In lieu of flowers, the family requests contributions be made to Grace Episcopal Church.

Funeral arrangements are under the direction of Freeman Mortuary.


Order Flowers