Obituary for Olive "June" Lorts (Shoemate)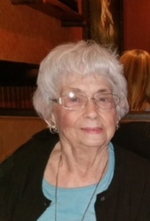 Mrs. Olive June Lorts, age 88 years, of Jefferson City, Mo., died Thursday, June 21, 2018 at the University Hospital, Columbia, Mo.

June was born June 10, 1930 in St. Louis, Mo. the daughter of Elvie O. and Glea M. Madden Shoemate. She was married on June 17, 1950 in Fulton County, Arkansas to Odell M. Lorts who preceded her in death on February 8, 1988.

In her early years, June lived in St. James, Iberia, and Belle but was a resident of the Jefferson City area for most of her life. June was a 1949 graduate of John F. Hodge High School, St. James, Mo.
June was employed with Chesebrough-Ponds from 1967 until her retirement in 1987 and was also a licensed cosmetologist.

She attended Capital City Christian Church and was a member of the Auxiliary of the Fraternal Order of the Eagles, Aerie 2693.

June's hobbies included reading, crocheting, sewing, and shopping. She was an amazing cook and loved anything related—reading recipes, collecting cookbooks, watching cooking shows, and collecting kitchen appliances. She loved to laugh and had a cute and hilarious sense of humor. Whenever you were around her, it was a guarantee you would be laughing. She loved all of her dogs and spent much of her time doting on them. She loved being with her family. She lit up whenever she saw her children, grandchildren, and great-grandchildren. They were her Life.

Survivors include: four children, Gary D. Lorts and his wife Lou Ann of Jefferson City, Mo., Richard O. Lorts of Jefferson City, Mo., Patricia L. Trimble and her husband Rick of Jefferson City, Mo., and Tracy M. Lorts of Jefferson City, Mo.; four grandchildren, Brian Lorts and his wife Leanne, Rachel Fine, Dylan Carr, and Nathan Lorts and his fiancée Janine Blue; and four great grandchildren, Alexis Lorts, Logan Lorts, Gage Fine, and Haiden Fine.

She was preceded in death by her parents, her husband of thirty-eight years, Odell, and a long-time significant other, Nix Anderson.

Visitation will be at Freeman Mortuary from 5:00 until 7:00 pm Tuesday, June 26, 2018.

Private graveside services and interment will be conducted on Wednesday, June 27, 2018 at Hawthorn Memorial Gardens.

Those desiring may make memorial contributions to the Jefferson City Animal Shelter, the Callaway Hills Animal Shelter, People Helping Paws or the American Cancer Society.

Funeral arrangements are under the direction of Freeman Mortuary.
Order Flowers