Obituary for Anthony "A.C." Pope Jr.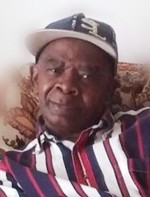 Anthony Clinton "A.C." Pope Jr., 69, of Jefferson City, Mo., passed away on Wednesday, June 20, 2018 at his home.

A.C. was born on June 14, 1949 in St. Louis, Mo. the son of Anthony Clinton Pope, Sr. and Arentta Roger. A.C. grew up in St. Louis, Mo. where he graduated from Vashon High School.

He was married on May 3, 2013 in Jefferson City, Mo. to Loretta Waldon who survives of the home. A.C. had a strong love for his wife and always cherished their wedding day. His time spent with his family will always be remembered.

He later moved to Jefferson City when he became employed as a certified nurse's aide. He worked tirelessly to help others and showed great compassion.

A.C. had many fond memories of growing up in St. Louis and loved cheering on his team, the St. Louis Cardinals. When listening to music his favorite group was Blue Magic. He also enjoyed keeping up with politics on television and in the news.

Survivors include: his loving wife, Loretta Waldon; his son, Antwan Pope of St. Louis, Mo.; his daughter, Tahtiana Lane (husband Chris) of Jefferson City, Mo.; two siblings, Lionel Pope of Las Vegas, Nv. and Michelle Johnson of St. Louis, Mo.; three grandchildren, Jamal Pope, MarSean Palmer and Cirsten Lane; and his beloved dog, Berkley.

Anthony was proceeded in death by his parents, Anthony and Arenetta Pope.

Visitation will be at Freeman Mortuary from 6:00 p.m. until 7:00 p.m. Friday, June 29, 2018 with a memorial service following at 7:00 p.m. in the Freeman Chapel with the Reverend Joseph Harden officiating.

In lieu of flowers, memorial contributions are suggested to the Anthony Pope Memorial Fund.

Funeral arrangements are under the direction of Freeman Mortuary.


Order Flowers