Obituary for Lorraine Mercurio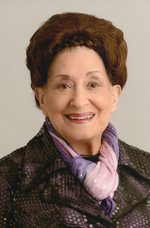 Mrs. Lorraine Saffee Mercurio, age 92 years, of Jefferson City, Mo., died Monday, June 18, 2018 at her home surrounded by her family.

She was born September 1, 1925 in Jefferson City, Mo., the daughter of Samuel E. and Sadie Kalaf Saffee. She was married on September 1, 1951 in Port Huron, Michigan to Alphonse Thomas Mercurio who preceded her in death on September 11, 2009.

A resident of Jefferson City for most of her life, Lorraine was a 1944 graduate of St. Peter High School and attended Mount Saint Scholastica College in Atchison, Kansas.

In 1961, Lorraine and Alphonse moved to Jefferson City where they owned and operated Saffees Ladies Clothing Store, a business that was founded by her parents in 1923.

She was a member of the Cathedral of St. Joseph; she was awarded the Mrs. William H. Weldon Lifetime Achievement Award by the Zonta Club in 2017; and she was a life-long member of the Downtown Business Association.

Lorraine was a lifetime business owner. She cared deeply about her work, and became a part of the lives of her customers. She helped them feel confident and successful no matter what life brought their way, and women from around the Midwest came to shop with her. She inspired that same passion in her children, and invested in their success at every step. Lorraine was devoted to her family, her community and her faith. She welcomed family and friends into her home every Sunday to share her gourmet Lebanese and Italian cuisine, meals that no one could forget. Lorraine embraced life with an ever-present smile that brought warmth to all she met. She truly believed that each person should live life to the fullest, love with all your heart, and have faith that God is with you.

Survivors include: five children, Linda Bartels and her husband Greg of Columbia, Mo., Judy Howard and her husband Steve of Jefferson City, Mo., Marie Adrian and her husband Ron of Leawood, Kansas, Mark Mercurio and his wife Julie of Jefferson City, Mo., and Steve Mercurio and his wife Dianne of Parkville, Mo.; nineteen grandchildren, Juliet Charbonneau and her husband Steven, Angela Hanson and her husband Eric, Bryan Bartels and his wife Emily, Michael Bartels, Blake Howard and his wife Gina, Michelle Hataway and her husband Jackson, Jason Howard, Jonathan Adrian, Amanda Pharis and her husband Devan, Niccolas Mercurio and his wife Katie, Joseph Mercurio, Megan Lingmerth and her husband David, Matthew Mercurio, Mark Mercurio, Nathan Mercurio, Luke Mercurio, Brea Mercurio, Justin Mercurio and his wife Katy, and Colton Mercurio; eighteen great grandchildren; five siblings, Marguerite Shamaly, Jouliette Erickson, Rosalie Tracy, Bonnie Jowett, and Stephen Saffee.

She was preceded in death by her husband of fifty-eight years, Alphonse Thomas Mercurio, one grandson, Andrew Thomas Adrian, and one brother, Rondeau Saffee.

A Rosary and Prayer Service will be conducted at 3:15 p.m. Sunday, June 24, 2018 in the Cathedral of St. Joseph.

Visitation will be at the Cathedral of St. Joseph from 4:00 until 7:00 p.m. Sunday, June 24, 2018.

A Mass of Christian Burial will be conducted at 10:00 a.m. Monday, June 25, 2018 at the Cathedral of St. Joseph with the Reverend Monsignor Robert Kurwicki officiating. Entombment will be in the Mausoleum of Resurrection Cemetery.

In lieu of flowers, memorial contributions are suggested to the Samaritan Center, 1310 East McCarty St., Jefferson City, Mo. 65l0l.

Funeral arrangements are under the direction of Freeman Mortuary.
Order Flowers