Obituary for Darrell Boyd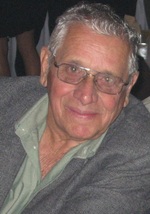 Mr. Darrell M. Boyd, age 90, of Jefferson City, Mo., passed away on Sunday, June 10, 2018 at home surrounded by his loving family.

Darrell was born on October 26, 1927 in Livingston County, Mo. the son of Tommy and Lela (Scott) Boyd. He was married on December 22, 1950 in Yuma, Arizona to Betty J. Rugh.

Darrell was employed with the Central Electric Power Cooperative for 35 years prior to his retirement in 1989.

He served in the United States Navy during World War II and was a member of the American Legion Roscoe Enloe Post 5 and the VFW Post 1003.

Survivors include: his wife of 67 years, Betty Boyd; four children, Rex Boyd (Mary) of Holts Summit, Mo., Cathy Boyd Klote (Gary) of Warrensburg, Mo., Kristie Boyd Wever (Tim) of St. Martins, Mo., and David Boyd (Jennifer) of Jefferson City, Mo.; eight grandchildren and thirteen great-grandchildren; one sister, Betty Scott; and one brother, Bobby Boyd.

He was preceded in death by his son, Danny Boyd in December 1968.

Visitation will be held at Freeman Mortuary from 10:00 until 11:30 am Wednesday, June 13, 2018. Graveside services with military honors will follow at Hawthorn Memorial Gardens with Mr. Rick Yoder officiating.

In lieu of flowers, memorial contributions are suggested to Hospice Compassus.

Order Flowers