Obituary for Gloria Leslie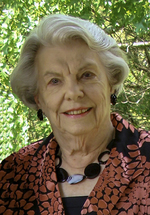 Gloria Lucille (Borregard) Leslie of Jefferson City, Missouri, passed away Thursday, June 7, 2018 at the age of 92. She was living at Heisinger Bluffs.

Gloria was born on August 7, 1925 in Waukegan, Illinois, the daughter of Raymond J. and Elizabeth N. (Laursen) Borregard. She was a 1943 graduate of Waukegan High School. On May 5, 1946 she wed James T. Leslie, Jr., who survives.

She met her husband, Jim, while a Gamma Phi Beta at the University of Missouri, and together they moved around the country while he was in the military, and started raising their family.

She completed her degree at Northwestern University at Evanston, Illinois. They settled their young family in Jefferson City in 1960, where talented gardener, Gloria, became a homemaker. Together she and Jim shared 72 years of marriage.

Always an adventurer, Gloria enjoyed traveling the world with Jim and various friends. She flew on the Concorde jet and sailed on the QE2 as well as exploring Japan, Russia, Australia, Europe, South America, and most of the United States. An avid golfer, much of their travels included new golf courses and plenty of competitions. While not a fan of the Missouri heat, she rarely missed an opportunity to play golf with Jim or with friends.

Gloria was involved in and held leadership positions in numerous community organizations and clubs. Among her activities were: Chapter BW of PEO, the Jefferson City YMCA, Tuesday Club, Century Club, and the women's golf team at the JCCC. She was a member of the First United Methodist Church.

Along with her husband, Dr. James T. Leslie, Jr., survivors include three sons, Dr. Terence Leslie and wife, Donna, of Independence, Jay Leslie of Jefferson City, and Dr. Chris Leslie and wife, Susan, of Sherman, TX; four grandchildren, Suzanne (Brad), Andrew (Sabrina), Jeff (Tara), and Sallie (Tyrus); five great grandchildren, Cade, Wes, Julian, Jack and Blair; two brothers, Glen (Rachel), and Larry (Chris); one sister-in-law, Muriel; and several nieces and nephews.

She was preceded in death by her parents, brother, Rich, and son, Scott Leslie.

Visitation will be held from 10:00 a.m. until 11:00 a.m., Friday, June 15, 2018 at the First United Methodist Church.

Funeral services will be conducted at 11:00 a.m., Friday, June 15, 2018 at the First United Methodist Church with the Reverend Daniel Hilty officiating. Private graveside services will follow at Riverview Cemetery.

In lieu of flowers, memorial contributions are suggested to the Jefferson City Y.M.C.A.

Funeral arrangements are under the direction of Freeman Mortuary.
Order Flowers