Obituary for Geraldine Atkinson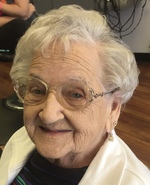 Geraldine Hull Atkinson, age 86 years, of Jefferson City, Mo., passed away on Wednesday, June 6, 2018 at the Adams Street Nursing Center.

She was born on August 29, 1931 in Randolph, Vt., the daughter of Gerald and Helen (Ivers) Hull. She was married on June 27, 1948 in Northfield, Vt. to Lloyd Atkinson who preceded her in death.

A lifelong resident of Vermont, she split her time between both Vermont and Florida. She attended Northfield High School in Northfield, Vt. She later worked for Rabbit Hollow Knitting as an inspector until her retirement in 1994.

In addition to spending time with her family, Geraldine enjoyed knitting. She had an amazing jewelry collection, many shades of stones but her favorite was red. She also loved watching the ballgame with her son in law, Ray Greenslit.

Survivors include her son Basil Atkinson (Ria) of Lumi Island, Wa.; a sister Evelyna Melbourne of 7 Pines, Nc.; 7 grandchildren, 13 great-grandchildren and 5 great-great-grandchildren.

She was preceded in death by her husband Lloyd, her daughters Donna Greenslit and Cindy Austin, her parents Gerald and Helen and 3 siblings, Gerald Hull, Rosita Hull and June Wall.

Geraldine's final resting place will be at Roxbury Cemetery in Kingston, Vt.

Those desiring may make memorial contributions for Parkinson's research to The Michael J. Fox Foundation at P.O. Box 5014, Hagerstown, Md. 21741.

Order Flowers