Obituary for Kenneth "Kenny" Belt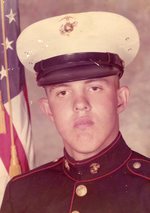 Mr. Kenneth Lee Belt, Sr., age 64 years, of Jefferson City, Mo. passed away Monday, June 4, 2018 at his home.

Kenny was born on February 3, 1954 in Kansas City, Ks. a son of Elvin and Mary (Rhodes) Belt. He was married on May 8, 1971 in Jefferson City, Mo. to Brenda Darlene Jackson.

He proudly served in the United States Marine Corps from 1972 until 1974 as a Private First Class.

Kenny was employed as a driver with the Capital Vault Company and later for Central Missouri Vault Company for several years.

His main passion was spending time with his family, especially when he was able to fish with them on streams in central Missouri. He loved being outdoors and always enjoyed deer, turkey and mushroom hunting. He could also be found watching western movies many days.

Survivors include: his wife, Brenda Belt; four children, Kathy Lute of Eldon, Mo., Kenneth Belt, Jr. of Eugene, Mo., Gary Belt of Jefferson City, Mo. and Mikel Belt (wife Jamie) of Jefferson City, Mo.; three sisters, Mary Anita Nichols of Eldon, Mo., Martha Jane Glynn (husband Larry) of Eldon, Mo. and Becky McCubbin (husband Kenny) of Eugene, Mo.; 11 grandchildren, four great-grandchildren and several nieces and nephews.

He was preceded in death by his parents; one brother, Raymond Belt; an infant grandson, Mikel Belt; and an infant brother, Robert Belt.

Graveside services and interment will be conducted at 2:00 p.m. Saturday, June 9, 2018 at Hickory Hill Cemetery in Hickory Hill, Mo.

In lieu of flowers, memorial contributions are suggested to the Kenneth Belt Memorial Fund.

Order Flowers