Obituary for Patrick "Pat" Chilton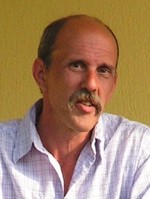 Mr. Patrick Wayne Chilton, age 57 years, of Kansas City, KS., a former resident of Jefferson City, Mo., passed away Monday, June 4, 2018 in his daughter's care at her home surrounded by family.

He was born on October 28, 1960 in Festus, MO the son of Lloyd Chilton and Imagene Lucas. He was married on February 19, 1982 in St. Louis, Mo. to Cheryl Cummings.

Pat was a 1978 graduate of North Tech School in Florissant, Mo.

While living in Jefferson City, he was employed as a Machinist with Ameren for 18 years. He later moved to the Kansas City area and began work with Independence Power and Light. He was currently working with Kansas City Board of Public Utilities. Pat loved working as a machinist throughout his life because was talented at problem solving and creating things with machines.

Some of Pat's favorite pastimes were cheering on the St. Louis Cardinals, making things using his machining skills, and most of all, spending time with his family, especially his grandchildren. Pat will be remembered for putting others before himself, his patience, his kind giving heart and his sense of humor.

Survivors include: his wife of 36 years, Cheryl Chilton; his son, Jonathan Chilton and his wife Sarah of Jefferson City, Mo.; his daughter, Jade DeWitt and her husband Greg of Kansas City, Mo.; one sister, Diane Knight of St. Louis, Mo.; three brothers, Jerry Chilton of Desoto, Mo., Calvin Chilton of Gulfport, Mississippi, and Tom Chilton of Chandler, AZ.; and five grandchildren, Collin Chilton, Riley DeWitt, Tori DeWitt, Cooper Chilton and Emmy Chilton.

He was preceded in death by his parents.

A visitation will be held from 4:00 p.m. until 6:00 p.m. Friday, June 8, 2018 at Freeman Mortuary.

A memorial service will be conducted at 6:00 p.m. Friday, June 8, 2018 in the Freeman Chapel with celebrant Gara Loskill officiating.

In lieu of flowers, memorial contributions are suggested to MD Anderson Cancer Center.

Funeral arrangements are under the direction of Freeman Mortuary.

Order Flowers