Obituary for John Moore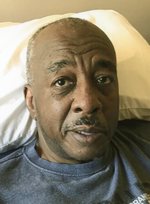 Mr. John Arthur Moore, age 70 years, of Holts Summit, Mo., passed away Friday, May 18, 2018 at Adams Street Place.

John was born February 4, 1948 in Edwardsville, Illinois the son of Tom and Edna M. (Nash) Moore. He was married on April 5, 1969 in St. Louis, Mo. to Earnestine McCain.

A resident of St. Louis for most of his life, John was a graduate of East St. Louis High School.

John always possessed a strong work ethic. He was employed as a Dye Caster with St. Louis Dye Casting for 20 years prior to his retirement in 2003. Previously, he had been employed with National Vendors as a machine operator for 20 years and Barnes Hospital in food service for six years.

In 2013 he moved to Holts Summit to be closer to his daughter so she could help care for him due to health reasons.

John found peace being outdoors, especially when he could get away to fish. He loved playing basketball when he was younger and that passion continued as he was a lifelong fan of the NBA. He cherished time with this family and enjoyed riding bikes with them around St. Louis.

Survivors include: his wife of 49 years, Earnestine Moore; one daughter, Johnetta Moore of Jefferson City, Mo.; two sisters, Hattie Moore of East St. Louis, Illinois and Thurline Nash of East St. Louis, Illinois.; two grandchildren, Danielle Moore of Springfield, Mo. and Devon Moore of Jefferson City, Mo.; one niece, Pauline Nash of Houston, Texas; one nephew, Michael Moore of East St. Louis, Il.; and two sisters-in-law, Alberta McCain of Holts Summit, Mo. and Mary McCain of Marion, Indiana.

He was preceded in death by his parents and one son, Kenny.

Visitation will be held at Freeman Mortuary from 10:00 until 12:00 p.m. Saturday, May 26, 2018.

Funeral services will be conducted at 12:00 p.m. Saturday, May 26, 2018 in the Freeman Chapel with the Reverend Charles Jackson officiating. Graveside services with interment will be held at Longview Cemetery.

Those desiring may make memorial contributions to American Heart Association.

Funeral arrangements are under the direction of Freeman Mortuary.
Order Flowers