Obituary for Ellen Kinder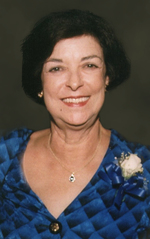 Ellen Taylor Kinder, age 78, of Jefferson City Missouri, passed away on Thursday, May 10, 2018 at Capital Region Medical Center.

Ellen was born January 14, 1939 in Bonne Terre, Missouri. She was the daughter of Dr. Van Taylor and Margaret McClay Taylor. On November 11, 1978 Ellen was joined in marriage to Judge Byron L. Kinder.

Ellen was educated in public schools in Bonne Terre. She graduated high school from Ferry Hall School in Lake Forrest, Illinois. Then attended and graduated College at Bradford College in Haverhill, Massachusetts. Upon graduation Ellen moved to New York City and attended the Catherine Gibbs Secretary School after which she was employed by the Memorial Sloan Kettering for seven years.

In 1971, Ellen returned to Missouri and worked on a campaign for Christopher Kit Bond and served on his staff for the first four years of his term. Ellen then joined the staff of Senator A. Clifford Jones of Ladue and then Senator Thomas McCarthy of St. Louis. After which she then joined McCarthy and Associates as a Legislative Lobbyist until her retirement.

She is survived by Judge Byron Kinder and her two step-children, Christopher B. Kinder of New Bloomfield, MO and Gretchen D. Kinder of Los Angeles, CA both of whom she knew as her own children, and two grandchildren, Evan Byron Kinder and Sterling Page Kinder.

She was preceded in death by her parents and brother, Van W. Taylor II.

Visitation will be at Freeman Mortuary from 11:30 a.m. until 1:00 p.m. Saturday, May 19, 2018.

Funeral services will be conducted at 1:00 p.m. Saturday, May 19, 2018 in the Freeman Chapel. Private graveside services and entombment will be in the Columbarium of Riverview Cemetery.

Those desiring may make memorial donations to Meds & Food for Kids, 4488 Forest Park Ave., Suite 230, St. Louis MO 63108 or Samaritan Center – Jefferson City, P.O. Box 1687, Jefferson City, MO 65102.

Funeral arrangements are under the direction of Freeman Mortuary.
Order Flowers