Obituary for Anthony "Tony" Charles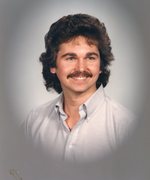 Mr. Anthony Brent "Tony" Charles, of Jefferson City, MO. passed away Monday, May 7, 2018 at his home.

He was born on July 2, 1959 in Fort Ord, Calif., the son of Dode Edward Charles and Venice Maxine (Stewart) Tucker.

Growing up in a military family, Tony called many cities home. His family eventually settled in Jefferson City, Mo. and he graduated from Jefferson City High School in 1977. He went on to graduate from Linn Technical College in 1979. Tony then decided to go back to school later in life and graduated from Oklahoma State University in 2000.

Tony was a licensed pedorthist. He was the owner and operator of Walk Easy, specializing in modifying footwear to aide with foot and lower limb ailments.

Tony enjoyed music and even played the drums. He was a giving man and always put others needs before his own. He cherished his family and friends and deeply appreciated time spent with them.

Survivors include: one sister, Donna Jones of Jefferson City, Mo.; one niece, Allana Carlton of Jefferson City, Mo.; one nephew, John Merritt of Jefferson City, Mo.; three great nephews, Seth Miller, Matthew Carlton and Wyld Potts; one great niece, Pierce Miller; and many loving friends.

He was preceded in death by his parents, Dode Edward Charles and Venice Maxine (Stewart) Tucker.

A gathering of friends will be held at Tony's Home from 1:00 until 4:00 PM Saturday, May 19, 2018 to celebrate his life.

In lieu of flowers, memorial contributions are suggested to the Tony Charles Memorial Fund.

Funeral arrangements are under the direction of Freeman Mortuary.
Order Flowers