Obituary for Mac McMillan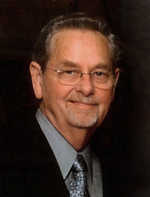 Marion D. 'Mac' McMillan, age 77 years, of Jefferson City, Mo., died Saturday, May 5, 2018 after a lengthy illness.

Mac was born March 19, 1941, in Ozone, Arkansas, and grew up in Oran, Missouri, the son of Oliver Scott 'Bud' McMillan, Sr. and Helen Ruth Adkins. He was married on May 28, 1976 in Kansas City, Mo. to Sally Jean Knoop.

He was a 1959 graduate of Scott County R-3 High School, and a U.S. Army Veteran having served active duty in Germany. He earned an Associate in Applied Science from Penn Valley Community College in Kansas City, a Bachelor of Science in Criminal Justice Administration and a Master of Science in Criminal Justice Administration – Administration of Justice from Central Missouri State University, in Warrensburg, Mo. He pursued additional training with the Federal Bureau of Investigation and was an expert in firearms and tool mark identification and crime scene photography.

Mac was a lifelong public servant and community volunteer. He began his career as a patrol officer with the Kansas City Police Department, and advanced to positions as a crime scene investigator and homicide detective with the Kansas City Regional Crime Lab, retiring after 25 years of service. He furthered his career as Chief Investigator with the Jackson County Medical Examiner's office; then joined the Missouri Department of Social Services State Technical Assistance Team, investigating crimes against children. For many years, he worked as a volunteer firefighter with the Golden Beach Fire Protection District.

He was a Scottish Right 32nd Degree Mason, a former member of the Ararat Shrine Temple, and member of First Presbyterian Church of Jefferson City. He was an active member of the Order of the Eastern Star, and served as Warden, Associate Patron (2005), Worthy Patron (2009 and 2011) of the Versailles Chapter 410; and Sentinel, Associate Patron (2015) and Worthy Patron (2015-16) of the Victoria Chapter 14.

Mac was a devoted husband to his wife, Sally, who proceeded him in death. They shared many friends and years of fun with the Southwood Manor Unified Trotters. His hobbies included reading, bird watching, movies, boating and water skiing, black powder rifle club, gardening, playing cards and Sudoku. Most importantly, he was a dedicated family man and was abundantly proud of his children and grandchildren.

His survivors include nine brothers and sisters, one son, Michael (Tonia) McMillan, of Raymore, Mo., two daughters, Lisa Ann (Rob) Schreck of Eden Prairie, Minnesota and Susan Evans of Blue Springs, Mo.; ten grandchildren and four great-grandchildren.

He was preceded in death by his parents; a brother; his wife, Sally Jean McMillan; a daughter, Christina Barr, and a granddaughter.

Visitation will be held from 1:00 until 2:00 pm Friday, May 11, 2018 at First Presbyterian Church with a Masonic service held at 1:00 pm under the auspices of the Jefferson Lodge No. 43, A.F. & A.M.

A memorial service will follow at 2:00 pm Friday at First Presbyterian Church with the Reverend Dr. David Henry officiating. Military honors will conclude his services.

In lieu of flowers, memorial contributions are suggested to the Shriners Hospitals for Children.
Order Flowers