Obituary for Nancy Scott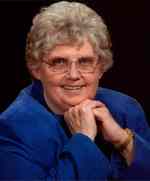 Nancy L. Scott, 75, of Jefferson City, Mo., passed away Sunday, May 6, 2018 at the Capital Region Medical Center.

Nancy was born June 5, 1942 in Mexico, Mo. a daughter of the late Archie and Bessie (Duncan) Vaughn.

A lifelong resident of the central Missouri area, Nancy attended Russellville High School and later was proud to receive her General Education Diploma.

She was employed at the International Shoe Factory for 11 years and with the original East End Gerbes for 34 years as a cashier prior to her retirement in 1998. After retirement, she worked at Gerbes part time because she loved socializing with people.

Nancy was a member of Immaculate Conception Church and the Top Club #711.

She enjoyed reading, embroidering, traveling on senior trips, and playing bingo with her many great friends at Hyder Apartments. Nancy will be remembered for her outgoing personality because she never met a stranger. She also had a great sense of humor and always held a positive outlook.

Survivors include: three sons, Danny W. Scott (wife Vickie) of Jefferson City, Mo., Dennis L. Scott (wife Mary Jo) of Rocky Mount, Mo., and Donald G. Scott (wife Madonna) of Wellsville, Mo.; one sister, Norma Tambke (husband Jim) of Apache Junction, Arizona; one brother, Robert Vaughn of Jefferson City, Mo.; a longtime friend and caregiver, Shelia Scott (husband Rick) and their children who Nancy loved dearly; one grandson, Danton Scott; and several step-grandchildren and step-great-grandchildren.

She was preceded in death by a nephew, Doug Tambke and step-grandson, James Turner.

Visitation will be held at Freeman Mortuary from 10:00 a.m. until 11:00 a.m. Wednesday, May 9, 2018.

Funeral services will be conducted at 11:00 a.m. Wednesday, May 9, 2018 in the Freeman Chapel with the Reverend Cesar Anicama. Graveside services and interment will be held at Hawthorn Memorial Gardens.

In lieu of flowers, memorial contributions are suggested to the Samaritan Center or the Capital Region Medical Foundation.

Funeral arrangements are under the direction of Freeman Mortuary.
Order Flowers