Obituary for Connie Castrop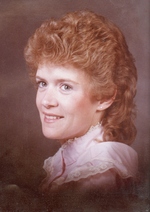 Mrs. Connie A. Castrop, 60, of Centertown, Mo., passed away Sunday, April 29, 2018 at Capital Region Medical Center surrounded by her family.

She was born on April 17, 1958 in Jefferson City, Mo. a daughter of the late Wayne and Shirley (Burks) Quinn. She was married on January 19, 1980 in Jefferson City to Tom Castrop.

A lifelong resident of central Missouri, Connie was a 1975 graduate of Jefferson City High School.

She was employed for over 10 years with the State of Missouri with the Department of Revenue and retired from the Motor Vehicle Commission in 1997.

Connie had a great life: traveled on cruises to the Caribbean, played countless rounds of golf, loved her family and friends and was comfortable in her own skin. Her upbeat personality and great sense of humor made it impossible to meet a stranger, and she instantly became the life of the party.

Survivors include: her husband of 38 years, Tom; three sons, Patrick Castrop (wife Raquel), Adam Castrop (wife Krista), and Eric Castrop, all of Jefferson City, Mo; one brother, Ron Quinn (wife Maureen) of Jefferson City, Mo.; one sister, Sheila Davidson (husband Kevin) of Hartsburg, Mo; and five grandchildren, Austin, Chase, Avery, Mason, and Ethan Castrop.

Visitation will be held at Freeman Mortuary from 4:00 until 7:00 p.m. Thursday, May 3, 2018 with a prayer service to be conducted at 3:30 p.m. in the Freeman Chapel.

A funeral service will be conducted at 1:00 p.m. Friday, May 4, 2018 in the Freeman Chapel with her brother-in-law, Kevin Davidson officiating. Graveside services and entombment will be held at the Mausoleum of Hawthorn Memorial Gardens.

In lieu of flowers, memorials are suggested to the Tamara Hopkins Patient Assistance Fund.

Funeral arrangements are under the direction of Freeman Mortuary.
Order Flowers