Obituary for Helen James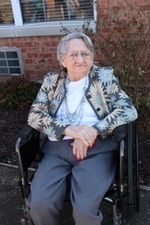 Mrs. Ida Helen James, age 97 years, of Henley, Mo. passed away Wednesday, April 25, 2018 at NHC Nursing Home in Maryland Heights, Mo. surrounded by her loving family.

She was born on February 23, 1921 in Henley, Mo., the daughter of William and Jenny (Henry) Golden. She was married on November 9, 1940 in St. Charles, Mo. to Orville James, who preceded her in death on March 10, 1992.

A lifelong resident of the central Missouri area, Helen was a 1934 graduate of Eugene High School.

A homemaker, Helen found the most joy in raising her children and providing day care to other small children. She was a true matriarch and cherished that role as a loving and supportive wife, mother and grandmother. Helen was a very talented seamstress, showcased by her beautiful quilts she made for family, and also loved to cook for her large family. She enjoyed playing cards and searching for treasures at rummage sales.

Survivors include: five sons, Garland James (wife Angie) of Union, Mo., Larry James (wife Karen) of Warrenton, Mo., William James (wife Sandy) of Corning, Ar., Randy James of Henley, Mo. and Paul James of St. Louis, Mo.; five daughters, Barb Hood of St. Ann, Mo., Janet Carolyn Wright of Eugene, Mo., Debbie Brengartner (husband Dave) of Chapel Hill, Tn., Renee Hollowell of Eugene, Mo. and Helen Pineiro (husband Joe) of O'Fallon, Mo.; one sister, Orphia Borne of Scott City, Mo.; 38 grandchildren; 75 great-grandchildren; and 28 great-great-grandchildren with three others due in the coming months.

She was preceded in death by her parents; her husband, Orville; one son, Donny James in 1984; two brothers, Earl Golden and Ernest Golden; two sisters, Una Femmer and Faye Graff; two sons-in-law, Jim Hood and Everett Wright; two daughters-in-law, Judy James and Barb James; one grandson, Bobby Hollowell; two granddaughters, Tommie Ann Hollowell and Theresa McQuaid; and four great-grandchildren, Briana Jerden, Billy Westfall Jr., and Kevin and Keith Hood.

Visitation will be at Freeman Mortuary from 5:00 p.m. until 8:00 p.m. Monday, April 30, 2018 and an additional visitation from 10:00 until 11:00 a.m. Tuesday immediately before her service.

Funeral services will be conducted at 11:00 a.m. Tuesday, May 1, 2018 in the Freeman Chapel with the Reverend Shane Crum officiating. Graveside services and interment will be held at Hickory Hill Cemetery in Hickory Hill, Mo.

In lieu of flowers, memorial contributions are suggested to the Helen James Memorial Fund.

Funeral arrangements are under the direction of Freeman Mortuary.
Order Flowers