Obituary for Julie Darnell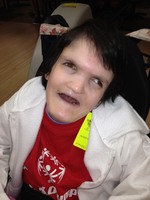 Julie Anne Darnell, age 37, of Jefferson City, MO., passed from her mother's loving arms to the ultimate loving arms of Jesus Christ on Wednesday, April 18, 2018 at SSM Health St. Mary's Hospital.

She was born on July 1, 1980 in Rolla, MO., the daughter of Lloyd "Dick" and Diana (DeShurley) Darnell.

Julie was a beloved member of First Baptist Church where she enjoyed all church activities especially choir and Friendship Singers. She was also an honorary member of the Vietnam Veterans of America.

Julie was an exceptional woman who touched the lives of many people. With her smile and sass, she made countless friends at Day Solutions and Gibbs Center for Independence. She was also known for her participation in Special Olympics, where she won several gold medals in ramp bowling. Julie loved music of all kinds but was especially fond of the Booth Brothers and loved to attend their concerts. To know Julie was to love her, and there was never a day that she wasn't loved.

Survivors include: her mother, Diana Darnell of Jefferson City, MO; step-brother, Robert B. Phinizy III of Jacksonville, FL; three step-sisters, Megan Gilleo (Steve) of Amesbury, MA, Cybil Wriedt of Kirksville, MO, and Chelsea Leipard (Micah) of Columbia, MO; step-nieces and nephews, Bailee-Rae Phinizy, Robert S. Phinizy, Katelyn Gilleo, Timothy Gilleo and Jacob Gilleo; grandparents, Jack and Peggy DeShurley of Rolla, MO; uncle, Ray (Janise) DeShurley; aunts, Denise (Mike) Sharp and Tina (Tom) Monson, all of Doolittle, MO; seven cousins, Chris (Max) Nisperos, and Erica (Daniel) Trent, of Citrus Heights, CA; Teresa DeShurley, of St. James, MO; Amber Sharp, Michelle Bock and Melissa (Derrick) Dillon, all of Rolla, MO; and Brandon (Lacy) Cole, of Doolittle, MO; seventeen first cousins once removed and two first cousins twice removed.

She was preceded in death by her father, Dick Darnell, step-father, Melvin Wriedt, Jr., and grandparents, Vorcie and Louise Darnell.

Visitation will be held at Freeman Mortuary from 5:00 until 7:00 PM Monday, April 23, 2018.

A funeral service will be conducted at 10:00 am Tuesday, April 24, 2018 at First Baptist Church with the Reverend Dr. Doyle Sager officiating. Graveside services will be held at 1:00 pm Tuesday at the Missouri State Veterans Cemetery in Fort Leonard Wood, MO.

In lieu of flowers, memorial contributions are suggested to CCRSI-Cole County Respite.

Order Flowers