Obituary for Bessie Vivion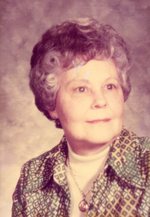 Mrs. Bessie Dean Vivion, age 102 years, of Jefferson City, Mo. passed away Tuesday, April 17, 2018 at Villa Marie with family by her side.

Bessie was born April 1, 1916 in Jefferson City, Mo., a daughter of the late George C. and Susie M. (Dearing) Coulter. She married Ernie L. Vivion on July 8, 1936 in Jefferson City at St. Peters Cathedral and he preceded her in death in May 1962.

She was employed by St. Peter School and St. Mary's Hospital in Jefferson City. She was a member of St. Peter Catholic Church in Jefferson City. She was a volunteer on the Senior Nutrition Center delivering meals to residents at Hyder Apartments for several years.

Bessie loved playing cards, bingo, going to country picnics and enjoyed eating out with family. She spent summers at the baseball fields watching the JC Red Birds ball team. In 1963, the ballfield was named for her husband, Ernie Vivion. She loved life, made the best of every situation and kept her sense of humor. She enjoyed her children, grandchildren, great-grandchildren and a great-great- grandson.

Survivors include: five children: Dorothy (George) Lammers, Billie (Ray) Siebeneck, Mike (Nancy) Vivion all of Jefferson City, Joyce (Paul) Crede of Westphalia, and Cheryl Vivion of Florida; eleven grandchildren: Chuck Lammers, Christie Manns, Craig Lammers, Vicki Engelbrecht, Bryan Siebeneck, Beth Jacobs, Tracy Crede, Travis Crede, Angela Kennedy, Laura Rayburn, and Nathan Smith; seventeen great-grandchildren: Lauren Lammers, Emily and Olivia Manns, Sidney, Maddison and Elliott Lammers, Jessica Holland, Sarah Brooks, Brett and Bryce Siebeneck, Jake, Emma, Zoey and Kaiya Jacobs, Ella and Christian Kennedy and Deven Rayburn; one great-great-grandson: Dilyn Holland; one sister: Peggy Bryant; one sister-in-law: Marie Coulter; and many nieces and nephews.

She was preceded in death by her husband, her parents; her brothers and their wives: Orville (Lou), Clyde, a baby brother, Claude (Virginia), Erman (Mae), George Coulter, Charles (Selma) Brown; sisters and their husbands: Ruth (Joseph) Keeney, Myrtle Coulter, Nellie (Richard) Plogsted, Audrey (Eugene) Borghardt; son-in-law: Dennis Smith; In-laws: Robert and Sophia (Melchert ) Vivion; granddaughter: Julie Vivion; and our dear aunt: Tillie Melchert.

Visitation will be at Freeman Mortuary from 1:00 until 3:00 p.m. Sunday, April 22, 2018 with a prayer service to be conducted at 12:15 p.m. in the Freeman Chapel.

A Mass of Christian Burial will be conducted at 10:00 a.m. Monday, April 23, 2018 at St. Peter Church with the Reverend Simeon Etonu officiating. Interment will be at Resurrection Cemetery.

In lieu of flowers, memorial contributions are suggested to St. Peter Church or the Jefferson City Y.M.C.A.

Funeral arrangements are under the direction of Freeman Mortuary.


Order Flowers