Obituary for Ernie Fowler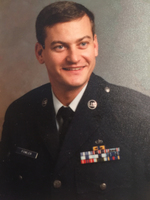 Ernest Leon "Ernie" Fowler, age 61 years, passed away Saturday, April 7, 2018 at the Harry S. Truman VA Hospital in Columbia with his loved ones by his side.

He was born on January 9, 1957 in Norfolk, Virginia the son of Mars Lee and Mary Irene (Shriner) Fowler.

Ernie was a 1976 graduate of Boone High School in Orlando, Fl.

He proudly served in the Unites States Air Force for 22 years before retiring as a Tech Sergeant. His military career allowed Ernie and his family to travel and see the world. His favorite place he was able to travel was Germany, he felt blessed to be able to live there with his family for eight years.

Ernie had a heart for giving. He always put others before himself and those who knew him loved him deeply. He was an avid Law and Order fan who enjoyed rap music, watching movies, and playing Mortal Combat on his son-in-law's XBOX.

Survivors include: his four daughters, Crystal Plotner and her husband Ryan of Jefferson City, Mo., Trinette Fowler of Orlando, Fl., Elizabeth Fowler of Warrenton, Va., and Victoria Fowler of Tampa, Fl.; his stepson, Christopher Patterson of Canada; his sister, Robin Brubaker and her husband Corbin of Summerfield, Fl.; his brother, Marvin Fowler and his wife Shirley of Chatanooga, Tn.; nine grandchildren; and several nieces and nephews.

He was preceded in death by his parents.

A visitation will be held from 1:00 pm until 2:00 pm Saturday, April 21, 2018 at Freeman Mortuary in Jefferson City, Mo.

A celebration of life service will be conducted at 2:00 pm Saturday, April 21, 2018 at the Freeman Chapel with the Reverend Dr. Doyle Sager officiating.

In lieu of flowers, memorial contributions are suggested to Wounded Warrior Project PO Box 758517 Topeka, Kansas 66675-8517

Funeral arrangements are under the direction of Freeman Mortuary.

Order Flowers