Obituary for Addie Ketcherside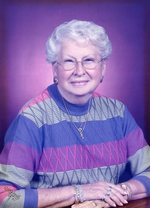 Mrs. Addie Jean Ketcherside, age 90 years, of Jefferson City, Mo., died Tuesday, April 10, 2018 at her home surrounded by her family.

Addie was born May 6, 1927 in Poplar Bluff, Mo. the daughter of James Frank and Helen (Gatlin) McKinney. She was married on June 23, 1946 in Poplar Bluff, Mo. to Wilbern R. Ketcherside who preceded her in death on November 9, 1998.

She was a 1945 graduate of Poplar Bluff High School. Wilbern and Addie moved to Jefferson City in 1963 when Wilbern was transferred by the Missouri Army National Guard.

She was employed in the Accounting Dept. of the Missouri Dept. of Conservation for over twenty-five years.

While in Jefferson City, she was a member of the First Baptist Church where she taught ceramics. After retirement, Wilbern and Addie would spend the winters in Florida with their favorite being North Ft. Myers. While in North Ft. Myers, Addie was employed with the Rain Tree R.V. Resort.

She enjoyed gardening, musical shows, traveling, and playing cards. Most importantly, she cherished her time with her family.

Survivors include: one son, James L. Ketcherside and his wife Carolyn of Jefferson City, Mo.; one grandson, Derek Ketcherside and his wife Adora of Centertown, Mo., three step grandchildren, Regina Hoffman and her husband Bryan of Lohman, Mo., Kim Wolken and her husband Gabe of New Bloomfield, Mo., and Shawn Manley and his wife Amy of Jefferson City, Mo.; two great-grandchildren, Arica Ketcherside and Kadyn Ketcherside; eight step-great-grandchildren and five step-great-great-grandchildren.

She was preceded in death by her parents; her husband of 52 years, Wilbern; one daughter, Janice Lynn Barrera in 1996; one brother, James W. McKinney; and one infant sister.

Visitation will be at Freeman Mortuary from 5:00 until 6:00 p.m. Thursday, April 12, 2018.

Funeral services will be conducted at 6:00 p.m. Thursday, April 12, 2018 in the Freeman Chapel with Carey Terry officiating. Graveside services and interment will be conducted at 1:00 p.m. Saturday, April 14, 2018 at the Woodlawn Cemetery in Poplar Bluff, Mo.

In lieu of flowers, memorial contributions are suggested to Hospice Compassus, 600 Monroe St., Jefferson City, Mo. 65l0l

Funeral services are under the care of Freeman Mortuary.
Order Flowers