Obituary for Curtis Bohanan II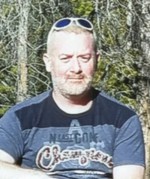 Curtis B. Bohanan, II, age 44 years, of Jefferson City, Mo., passed away Saturday, March 31, 2018.

Curt was born October 26, 1973 in Ft. Leonard Wood, Mo. the son of Curtis B. "Boh" and Kathryn Marlene (Morgan) Bohanan. With his father being in the military, he grew up traveling the world, living in places like Iran, Yemen, Thailand, Saudi Arabia and Belgium. He had lifelong friendships that began during these travels.

He was married in September, 1997 in Jefferson City, Mo. to Daphne Moad and with this marriage his three daughters were born.

Curt was a 1991 graduate of Osage High School in Osage Beach, Mo. He attended the University of Central Missouri at Warrensburg and Columbia College in Columbia, Mo. He went on to receive further education in the Law Enforcement Training Institute (LETI) to follow his passion of working in law enforcement.

Curt was employed as a patrolman with the Jefferson City Police Department for over ten years. Before his time with the JCPD, he worked with the Sheriff's Office in both Monroe and Cole County and with the Sunset Hills Police Department in St. Louis, Mo. The last four years of his career he was an investigator for the state of Missouri, working to prevent Medicaid fraud.

He was a member of the Fraternal Order of the Police and received several awards and commendations through his career, including a Meritorious Service Award and The Medal of Honor. He received the Jefferson City Medal of Valor and Governor's Medal of Valor for his conduct and bravery. He was passionate about his work in law enforcement and treasured the relationships he developed through this line of work.

He enjoyed the outdoors, gardening and camping, especially traveling to Colorado to hike. He had fond memories of traveling with family and friends to Belgium and Scotland.

Most importantly, he cherished his time with his daughters and always strove to be a supportive dad. He cheered them on with their activities and loved spending time with family, cooking and barbequing. He was known for his dry sense of humor and could make others laugh easily.

Survivors include: his three daughters, Kathryn Bohanan, Rylie Bohanan, and Regan Bohanan, all of Jefferson City, Mo.; his parents, Boh and Marlene Bohanan of Jefferson City, Mo.; one sister, Megg Withinton of St. Louis, Mo.; two nephews, Adam and Andrew Withinton; and his dog, Izzy.

The family will be hosting a Celebration of Life on Thursday, May 24, 2018 from 5:00 until 9:00 p.m. at The Millbottom in Jefferson City, Mo.

In lieu of flowers, memorial contributions for his daughters are suggested to the Curt Bohanan Memorial Fund, or online at www.gofundme.com/curt-bohanan-memorial-fund.

The family would like to thank all of Curt's friends for their love and support offered to him through the years and now being shared with the family. If you are a first responder or veteran who might be dealing with PTSD, please visit www.ptsdusa.org for more information. The National Suicide Prevention Lifeline is available 24 hours a day: 1-800-273-8255.

Order Flowers