Obituary for Charles Brandt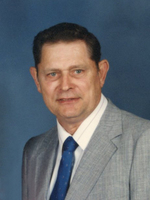 Mr. Charles H. Brandt, age 86 years, of Jefferson City, Mo. passed away surrounded by his family on Saturday, March 31, 2018 at Landmark Hospital in Columbia, Mo.

Charlie was born on September 17, 1931 in Linn, Mo. a son of Peter and Gertrude (Vasen) Brandt. He was married on November 17, 1956 in Westphalia, Mo. to Mary Lou Horstdaniel.

He served in the United States Army as a Sergeant during the Korean War.

A lifelong resident of the central Missouri area, Charlie worked with DeLong's Steel and 36 years with Chesebrough-Ponds retiring as a tool and die maker in 1993. While at Chesebrough-Ponds, he often achieved perfect attendance and trouble shot many problems with their equipment.

He was a faithful member of St. Peter Catholic Church where he was an usher and Eucharist Minister. He and Mary Lou attended eight years of perpetual adoration and had a special devotion to the Rosary. Charlie was a member of the Knights of Columbus, Dan C. Coppin Assembly 573, and a member of the Veteran's of Foreign Wars, Basinger/Sone Memorial Post 1003.

Charlie loved the outdoors: fishing, gardening, or mushroom, turkey, deer and raccoon hunting. He prided himself on being able to fix most things with his hands. He designed and built their home as well as their cabin on the Osage River. The family cabin was a special place where he loved to fish and entertain. He enjoyed traveling with Mary Lou to the state parks and several apparition sites.

Survivors include: his wife of 61 years, Mary Lou Brandt; five children, Kevin Brandt of Holts Summit, Mo., Kenny Brandt (Becky) of Jefferson City, Mo., Charlotte Braddock (Joe) of Columbia, Mo., Denise Schnieders (Chris) of Centertown, Mo. and Gloria Hoerschgen (Glen) of Jefferson City, Mo.; one brother, Urban Brandt (Mary) of Jefferson City, Mo.; 12 grandchildren, Amy Brandt, Trisha Brandt, Kurt Brandt, Valerie Brandt, Daniel Brandt, Chris Braddock, Stephen Braddock (Anh), Amanda Painter (Kody), Brian Schnieders (Margaret), Brittany Starr (Ethan), Tyler Hoerschgen and Caden Hoerschgen; 9 great-grandchildren and many nieces and nephews.

He was preceded in death by his parents; one grandson, Dustin Brandt; two brothers, Fred and Herb Brandt; and five sisters, Luella Brune, Delores Veltrop, Helena Lehman, Theresa Eiken and Mildred Mebruer.

Visitation will be held at Freeman Mortuary from 4:00 until 7:00 p.m. Friday, April 6, 2018 with a prayer service conducted at 3:15 p.m. in the Freeman Chapel.

Mass of Christian Burial will be conducted at 2:00 p.m. Saturday, April 7, 2018 at St. Peter Catholic Church with Reverend Cesar Anicama officiating. Entombment with military honors will be held at the Mausoleum of Resurrection Cemetery.

Memorial contributions are suggested to EWTN, 5817 Old Leeds Road, Irondale, AL 35210 or Cross Catholic Outreach, 2700 N. Military Trail, Suite 240, P.O. Box 273908, Boca Raton, FL 33427, or Masses.
Order Flowers