Obituary for Eddie Doyle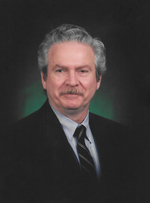 Eddie Thomas Doyle, 77, of Jefferson City passed away Thursday, March 22 at Adams Street Place Nursing Home after a lengthy and debilitating illness. Eddie had battled the ravaging effects of Progressive Supranuclear Palsy (PSP) for over eight years.

Eddie was born January 17, 1941, in Dixon, Missouri, son of the late Ernie William and Sylvia Amanda (Robertson) Doyle. Eddie graduated from Maries R-1 High School in Vienna, Missouri. Eddie accepted Jesus Christ as his savior as a boy and was a member of the Cornerstone Baptist Church in Jefferson City upon his passing.

On October 10, 1987, he was married to Pamela Louise Juergens, who survives at the home.
During his adult years, Eddie resided in the mid-Missouri areas of Vienna, Lohman, and Jefferson City and was a skilled and respected automobile mechanic. Eddie started his automotive repair career working in his father's independent automotive repair shop and service station near Vienna. After 15 years of experience Eddie bought the business upon his father's retirement and operated the business for another 12 years before selling the business. Eddie then worked for the Ford dealership in Jefferson City for over 25 years until his retirement on November 9, 2011. Eddie took pride in his craftsmanship and became ASE (Automotive Services Excellence) certified in seven different areas of automotive repair.

Eddie enjoyed performing his craft at a high skill level, visiting with friends, riding his motorcycle, and taking long drives through the surrounding countryside. He also enjoyed reading and spending time with his immediate and extended family, in addition to his grandchildren and great-grandchildren.

After the onset of his illness, Eddie was no longer able to ride his motorcycle and entered Adams Street Place under hospice care. However, through the loving thoughtfulness and creativity of Misty and Christy of Hospice Compassus, he was able to enjoy "Eddie's Last Ride" on April 8, 2017. With the extraordinary compassion of the American Legion Riders, Eddie was placed in a sidecar motorcycle and with over 100 other motorcycles took a long ride in the surrounding countryside. The ride was a thrill that Eddie cherished in his remaining days.

Eddie is survived by previous wife, Karren Lee Jones and their daughter Paula Ann Woodsmall and her husband James (Woody); daughter-in-law Renita Doyle; three grandchildren Chastity (Michael) Warner, Jarod (Julie) Phelps, and Whitney Schultz and seven great-grandchildren. Eddie is also survived by three siblings; Annetta Mobley, James (Barbara) Doyle, and John (Elaine) Doyle; and numerous nieces and nephews.

He was preceded in death by his parents, one son Scott Jeffery Doyle, and one brother, William Doyle.
Visitation will be held from 4:00 until 6:00 pm Thursday, March 29, 2018 at Cornerstone Baptist Church with a memorial service following at 6:00 pm with the Reverend Brian Credille officiating.

In lieu of flowers, memorial contributions are suggested to Hospice Compassus at 600 Monroe Street #100 of Jefferson City, MO 65101.

Order Flowers