Obituary for David Goller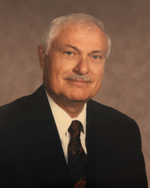 Mr. David R. Goller, age 86 years, of Jefferson City, Mo., passed away unexpectedly on March 20, 2018, in Naples, Florida.

David was born on September 6, 1931, on a farm in Jefferson City, the son of the late Rudolph J. Goller and Marie E. (Propst) Goller. He was united in marriage on June 7, 1953, to Dorothy (Linhardt) Goller and six children were born to this union.

David attended Trinity Lutheran School and Jefferson City High School, graduating in 1945 and 1949 respectively. David attended the University of Missouri-Columbia, where in 1955, he earned a Bachelor of Science degree in Business Administration, majoring in Finance and Banking. In 1958, he earned his law degree from the University of Missouri School of Law and was admitted to the Missouri Bar.

He served in the United State States Army during the Korean War.

David practiced law in Jefferson City for nearly 60 years in a law firm bearing his name. At the time of his death, he was "Of Counsel" to Goller & Feather, Attorneys & Counselors at Law, LLC. He was widely respected for his expertise in tax law, estate planning and administration, business and corporate law, and employee benefit plans. David was a member of the Missouri Bar, the American Bar Association, and Phi Delta Phi (law honorary). He served as President of the Cole County Bar. In September 2006, the Missouri Bar conferred the title of Senior Counselor in recognition of this long, distinguished career.

David worked to improve economic development and education in Jefferson City. He assisted and advised clients with the establishment of charitable trusts which will benefit the community for many years to come. In addition to practicing law, he was also a real estate developer.

David served on the Board of Hawthorn Bank and its predecessor, Exchange National Bank, and served as bank legal counsel for two decades. He was also a member of the Bank's Audit Committee, Compensation Committee, and Trust Committee.

David was confirmed into Trinity Lutheran Church in 1945. He served the church in various leadership roles, Secretary, Vice President, President, Elder, during the years 1962 to 1979. He was a member of Emmanuel Lutheran Church in Naples, Florida, and a member of Grace Episcopal Church in Jefferson City.

David was active in the community, beginning early in the Jaycees and then serving as board member or officer of many organizations, including Memorial Community Hospital, Riverview Cemetery, American Red Cross - Cole County Chapter, Cole County Planning Commission, Missouri Bicentennial Commission, Board of Trustees of the B. Gratz and Mary Gunn Brown Foundation, Inc. (associated with the Cole County Historical Museum). He was appointed to the Missouri Environmental Improvement and Energy Resources Authority, serving as Chairman 1991-1993 and Secretary 1987-1991.

He passionately supported charities, educational and religious organizations, especially the University of Missouri School of Law, Samaritan Center, Cole County Historical Society, Etta and Joseph Miller Performing Arts Center, Easter Seals, Leukemia and Lymphoma Society, Grace Episcopal Church, Immanuel Lutheran Church, Lutheran High School Association d/b/a Calvary High School, and Salvation Army.

David enjoyed playing the trumpet and was a member of the Kapital Kicks band for many years. He enjoyed playing golf and was a member of the Jefferson City County Club.

On August 26, 1989, David was united in marriage to Barbara Graham who preceded him in death on July 1, 2002. In recent years, he very much enjoyed the company of his dear friend, Alice Morello, of Jefferson City.

Survivors include: his sons, D. Greg (Audrey) Goller of Fairfax, VA and Michael J. Goller of Jefferson City; daughters, Valarie L. Goller of Kansas City MO, Lisa M. (Richard) Ward of Duncanville TX, Sue L. (Doyle) Childers of Reed Springs MO, and Andrea D. Goller of Worcester MA; his grandson, Michael A. Ward of Dallas TX; step-daughter, D'Arcy (Graham) Crane of Jefferson City; step-granddaughter, Stella M. Crane of Jefferson City; and step-son, Jonathan R. (Lori) Graham of Jefferson City.

David was preceded in death by his parents, Rudolph and Marie Goller; brother, James Goller; his second wife, Barbara Graham Goller; and his step infant grandchild, Hattie Crane.

Visitation will be held at Freeman Mortuary from 4:00 p.m. until 7:00 p.m. Tuesday, April 3, 2018.

Funeral services will be conducted at 10:00 a.m. Wednesday, April 4, 2018, at Grace Episcopal Church with the Reverend Bill Nesbit officiating. Graveside services and interment with military honors will be held at Riverview Cemetery.

In lieu of flowers, memorial contributions are suggested to any of the charities listed above or the charity of the donor's choice.

Funeral arrangements are under the direction of Freeman Mortuary.
Order Flowers