Obituary for Norma Neely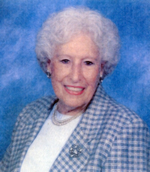 Mrs. Norma Lee Neely, age 93 years, of Jefferson City, Mo., passed away Monday, March 19, 2018 at St. Joseph's Bluffs.

She was born on February 3, 1925 in Boonville, Mo. the daughter of Charles F. and Maude (Ray) Bledsoe. She was married on June 29, 1947 in Jefferson City, Mo. to Gayle W. Neely who preceded her in death on October 9, 2001.

Norma was a 1944 graduate of Jefferson City High School.

After her marriage she relocated to Waterloo, Iowa where she was employed by John Deere Tractor Works as a secretary from 1947 to 1953. She was later employed by Employers Reinsurance Corporation in Overland Park, Kansas for 30 years as an accounting analyst, retiring in 1990.

Norma had a strong faith throughout her life and was passionate about helping children. She attended First Baptist Church in Jefferson City, Mo. for over 25 years and was a member of First Baptist Church in Kansas City, Kansas for over 40 years. While there, she and her late husband served as youth counselors. She served on the Board of Christian Education and the Diaconate. She was also community-minded and served on the board of the March of Dimes in Kansas City.

Norma had superior social skills and will be remembered as a caregiver to her family. She enjoyed being outdoors tending to her yard and never hesitated to fix things around the house. She was a creative person and channeled that energy into making quilts for family and friends.

Survivors include: one son, Gregory W. Neely of Jefferson City, Mo.; two nieces, Guenieth Bennett of Maryland Heights, Mo., and Beth Ann Hampton of Fruitland Park, Florida; two nephews, Ron Dale Kruse, Louisville, Kentucky and Scott W. Bledsoe of Jefferson City, Mo.; and several great-nieces and great-nephews. She treasured the nieces and nephews from Gayle and had a fond place in her heart for the Kempker, Roling, Roden and Ray families.

She was preceded in death by her parents, Charles and Maude Bledsoe; her husband of 54 years, Gayle Neely; her sister, Seldon Mae Abbett; her brother, C. Charles Bledsoe; and a nephew, Mike Bledsoe.

Visitation will be held at Freeman Mortuary from 4:00 p.m. until 6:00 p.m. Friday, March 23, 2018.

Funeral services will be conducted at 10:00 a.m. Saturday, March 24, 2018 in the Freeman Chapel with the Reverend Dr. Doyle Sager officiating. Graveside services and interment will be held at Riverview Cemetery.

In lieu of flowers, memorial contributions are suggested to the First Baptist Church, 301 E. Capitol Ave., Jefferson City, Missouri or the First Baptist Church, 2900 Minnesota Ave., Kansas City, Kansas 66102.

Funeral arrangements are under the direction of Freeman Mortuary.
Order Flowers