Obituary for Paul Adams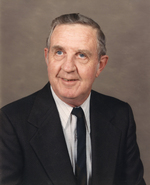 Mr. Paul Leroy Adams, age 87 years, of Jefferson City, Mo. passed away Saturday, March 17, 2018 at his home.

Paul was born on August 27, 1930 in Jefferson City, Mo. the son of Paul Taft and Dorothy Louise (Vineyard) Adams. He was married on January 26, 1952 at St. Peter Catholic Church in Jefferson City, Mo. to Nina Marie Wright who preceded him in death on April 25, 2015.

A lifelong resident of the central Missouri area, Paul was a 1948 graduate of Jefferson City High School.

After graduation Paul served in the Missouri National Guard for the next 42 years. He served in the 735th Headquarters Company and retired in 1990 as a Master Sergeant and as the Armament Supervisor.

Paul also operated his own vending business, A.J. Vendors, serving many Jefferson City restaurants and gas stations.

He was a member of the Fraternal Order of the Eagles, Aerie 2693 and the American Legion, Roscoe Enloe Post 5.

Throughout his life, Paul and his wife, Nina, loved spending time at the Lake of the Ozarks with family and friends. He was an avid water skier and taught his five children to ski and share in his love of the water. He loved entertaining at his cabin at the Lake and if not skiing could be found boating, fishing, or smoking a cigar. He was the life of the party and had the ability to make everyone feel like a friend when they were in his presence. That was partly due to all his funny stories that he would share to lighten the mood.

Paul enjoyed dancing and would try to get a family member to dance with him, but if that didn't work, he loved dancing by himself. He cherished time with his friends on the weekly bus trip to the casinos. He was inventive as well and would come up with ways to repair things that only he could think of. Paul's grandchildren have memories of his card tricks, going for walks with him, swimming with him and listening to his stories. He will be remembered for his kind and gentle spirit.

Survivors include: one son, Paul R. Adams (wife Shelly) of Lohman, Mo.; four daughters, Rhonda Monteer (husband Rick) of Eugene, Mo., Gwen Propst of Palmetto, Florida, Connie Stith (husband Rick) of Tampa, Florida, and Elaine Benz (husband Mark) of Russellville, Mo.; eight grandchildren, Dustin Monteer (wife Sherie), Angie Propst, Clinton Propst (wife Amanda), Dillon Bowman (Melissa), Jesse Hegerfeld, Leah Kliethermes (husband Justin), Brandon Adams (Jessi) and Taylor Martinez (husband Daniel); eleven great-grandchildren, Brent Monteer, Mason Monteer, Jayden Heislen, Easton Propst, Paige Hegerfeld, Hudson Propst, Kizzie Kliethermes, Preston Martinez, Hadley Propst, Karsyn Adams, Paisley Martinez; and one great-great-grandson, Jackson Monteer.

He was preceded in death by his parents; his loving wife of 63 years, Nina; and one sister, Sandra Harsy.

Visitation will be held at Freeman Mortuary from 10:00 a.m. until 11:30 a.m. Thursday, March 22, 2018.

Funeral services will be conducted at 11:30 a.m. Thursday, March 22, 2018 in the Freeman Chapel with the Reverend I.C. Medina officiating. Graveside services and interment with military honors will be held at Hawthorn Memorial Gardens.

In lieu of flowers, memorial contributions are suggested to the Central Missouri Honor Flight, 1400 Forum Blvd., Suite 7-A, Box 334, Columbia, Mo. 65203.

Funeral arrangements are under the direction of Freeman Mortuary.

Order Flowers