Obituary for Roxane Edgell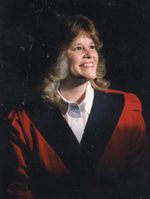 Roxane Edgell, age 51 years, of Jefferson City, Mo. passed away peacefully Wednesday, March 14, 2018 surrounded by family at the University Hospital in Columbia, Mo.

She was born on January 6, 1967 in Jefferson City, Mo. a daughter of James Robert, Sr. and Sharon K. (Cooley) Edgell.

A lifelong resident of Jefferson City, Roxane attended Jefferson City High School and received her bachelor's degree from Columbia College in Columbia, Mo.

She was employed as an auditor with the Family Service Division through the State of Missouri for over 10 years until ill health forced her retirement.

She was a member of the Church of Christ in Jefferson City.

Roxane's life revolved around her family, especially loving and supporting her grandchildren. Any free time was spent around family and she truly cherished just hanging out with them. She also enjoyed sewing and made many cross stitch blankets for family members. She never missed an episode of Law and Order SVU; it was her favorite way to spend an evening. She will be remembered for her caring nature, strong determination, and stubborn ways.

Survivors include: two daughters, Christina Boillot (husband Jordan) of Jefferson City, Mo. and Melissa Hennings (husband Justin) of Eugene, Mo.; two brothers, James "Bubba" Edgell, Jr. of Jefferson City, Mo. and Ralph "Buck" Edgell (wife Jan) of Wardsville, Mo.; one sister-in-law, Tammy Edgell of Holts Summit, Mo.; nine grandchildren, Skyler Kaiser, Shawna Kaiser, Seth Kaiser, Landon Kaiser, Chloe Kaiser, Jersie Hennings, Trenton Hennings, Donovan Hennings and Joslyn Hennings; and several nieces and nephews.

She was preceded in death by her parents and one brother, Terry Edgell.

Visitation will be held at Freeman Mortuary from 12:00 noon until 2:00 p.m. Saturday, March 17, 2018 with a prayer service immediately following in the Freeman Chapel at 2:00 p.m. with the Reverend John Cross officiating.

In lieu of flowers, memorial contributions are suggested to the American Diabetes Association, P.O. Box 15829, Arlington, Va. 22215.
Order Flowers