Obituary for Robert "Bob" Simpson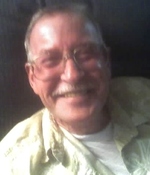 Mr. Robert E. Simpson, age 76 years, of Jefferson City, Mo. passed away Saturday, March 10, 2018 surrounded by family at the University Hospital in Columbia, Mo.

Bob was born on November 27, 1941 in Denver, Colorado a son of Homer E. Simpson and Laurel V. (Elliott) Crowe. He grew up in Omaha, Ne. and attended school there until he entered the military.

He served in the United States Navy on the Midway Aircraft Carrier as a flight deck director during the Vietnam War.

Bob was married on July 27, 1970 in Galt, California to Lynnette Brown Kurowski.

Bob worked over 20 years at Western Crafts producing corrugated boxes until he moved to Missouri in 1985. During his time in Jefferson City, he was employed with the Missouri State Penitentiary and Jefferson City Correctional Center for over 25 years until his retirement as a Vocational Enterprises Supervisor II in 2014.

He was a member of the Church of Jesus Christ of Latter Day Saints. He was also a member of the National Rifle Association and A.A.R.P.

Bob looked forward to helping others and will be remembered for his kind heart. He was a quiet man but his favorite times were supporting family. He had a love for animals, especially cats and dogs, and he cherished time with his grandchildren.

Survivors include: his loving wife of 47 years, Lynnette Simpson; three daughters, Cindy (Kevin) Backes of Jefferson City, Mo., Laurel (Robert Hunsaker) Simpson of Jefferson City, Mo. and Christine Saunders of Nv.; one sister, Mira Burghardt of Omaha, Ne.; one brother, Clifford (Nancy) Elliott of Omaha, Ne.; nine grandchildren, Kyle Backes, Samantha Backes, Allyson Bottoms, Logan Bottoms, Dylan Bottoms, Cameron Bottoms, Maddilyn Bottoms, Jessica Simpson and Joshua Simpson; and numerous nieces and nephews.

He was preceded in death by his parents; one daughter, Shalene Simpson on December 29, 2017; two brothers, James Elliott and Ronnie Ryan; and one nephew, Dale Elliott.

Private family services will be held at a later time.

In lieu of flowers, memorial contributions are suggested to charity of the donor's choice.

Funeral arrangements are under the direction of Freeman Mortuary.
Order Flowers