Obituary for Doris Smith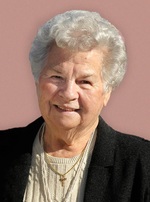 Mrs. Doris R. Smith, age 90 years, of Jefferson City, Mo., passed away peacefully Sunday, March 4, 2018 at home surrounded by her family.

Doris was born July 28, 1927 in Wardsville, Mo. the daughter of Otto H. and Henrietta (Knorr) Rackers. She was married on November 12, 1949 in Wardsville, Mo. to Charles B. Smith. After meeting at a 4-H dance at McClung Park in 1948, they were married for 68 years and Doris loved her husband dearly until her last breath.

A lifelong resident of the Jefferson City area, Doris was a 1945 graduate of St. Peter High School.

Her passion to be the best possible wife to support her hard-working husband and to successfully raise their eight children drove her daily life. She took her roles as wife, mother, grandmother, sister and friend seriously and to that end, she busied herself with gardening, canning and baking homemade items during which time she became pretty well known for her homemade bread and cinnamon rolls. When the school bus dropped the children off in the afternoon, the smell of the fresh-baked bread or rolls made its way to the end of the driveway as soon as the students exited the bus they ran to the house for a slice of warm bread or sweet roll.

Her kind heart and generous nature often drew people to her home who were then invited to make it their home. She treated them just like one of her own, extolling the virtues of personal responsibility and respect. Some eventually called her home theirs and when they married, their wives became daughters. Of course, it was all done with her husband's support. Both couldn't have loved the 'foster sons' as they called them anymore than if she had given birth to them.

Doris was also known for her guestbook. If you visited their house, she had you sign the guestbook. She ended up with at least three of these books and over the years, a number of visitors have signed in and made comments about their visit, making it a journal of sorts. Many times those books have been picked up to read and reminisce.

Doris was a 56 year member of St. Peter Catholic Church and had been a member of St. Michael Catholic Church in Russellville, Mo. She was an active lifetime member of the Auxiliary of the Fraternal Order of the Eagles, Aerie 2693 and the Unit 5 Auxiliary of the American Legion, Roscoe Enloe Post 5. For years, Doris and Charles volunteered numerous hours a week to those organizations. She helped form "WOW" or Women of Wardsville, a group of women who gathered twice a year to get caught up and get re-acquainted. Charles and Doris were members of the Merri-Mix Dance Club and she loved her card playing group.

Doris and Charles traveled all over the country visiting friends in Mississippi and Ohio. In the early 1960's, they bought a school bus and converted it to a camper and over the years, put twenty-five thousand miles on the bus traveling the country on many trips. They made several trips to Amana, Iowa for the tulip festivals and different locations where there were casinos. She had quite the green thumb and could take a broken leaf and turn it into a beautiful plant. She was an avid St. Louis Cardinals fan and enjoyed listening and watching games with family.

Survivors include: her husband, Charles B. "Smitty" Smith; seven children, Mark W. Smith of Meta, Mo., Russell S. Smith of Richmond, Virginia, Ronald R. Smith of Kona, Hawaii, Joseph R. "Randy" Smith of Jefferson City, Mo., Julie L. Smith of Jefferson City, Mo., Charles O. "Chuck" (Paula) Smith of Springfield, Mo., and David A. (Cheryl) Smith of Jefferson City, Mo.; kids who are like family, Larry (Margye) Crocker of Jefferson City, Mo. and their daughters, Melissa Crossman and Melanie Frisbie, and Ron (Helen) Dye of Holts Summit, Mo.; one brother, Harvey (Mary) Rackers of Brazito, Mo.; seven grandchildren, Ashley Smith Hall and Kristy Smith of Richmond, Virginia, Sarah Smith of Springfield, Mo., Hannah Jo Smith Coleman of Jefferson City, Mo., Levi Smith of Portland, Oregon, Marcus Oania of Florida, and Abraham Aaron Hall of San Francisco, California; several great-grandchildren and numerous nieces and nephews.

She was preceded in death by her parents; one son, Douglas B. Smith in 1996; and four brothers and sisters, Vernon (Alice) Rackers, Stanley (Betty) Rackers, Ruby Rank, and Marion Rackers.

Visitation will be held at St. Peter Catholic Church from 9:00 a.m. until 11:00 a.m. Thursday, March 8, 2018.

A Mass of Christian Burial will be conducted at 11:00 a.m. Thursday, March 8, 2018 at St. Peter Catholic Church with the Reverend Charles Pardee officiating. Graveside services and interment will be held at St. Stanislaus Church Cemetery in Wardsville, Mo.

In lieu of flowers, memorial contributions are suggested to the Alzheimer's Disease and Related Disorders Assn. or the American Legion, Roscoe Enloe Post 5.

Funeral arrangements are under the direction of Freeman Mortuary.
Order Flowers