Obituary for Keith English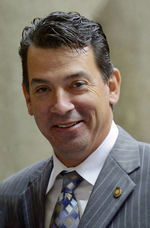 Keith Allen English, 50, of Jefferson City, Mo., died Wednesday, February 28, 2018.

Keith was born November 4, 1967 in the City of St. Louis, Mo. At a young age, he was adopted by Stephen A. and Linda M. (Stromberg) English. He was married on June 19, 2015 in Puerto Vallarta, Mexico to Kelly Nicole (Earleywine) Sullens.

He was a 1986 graduate of Hazelwood Central High School in St. Louis, Mo. and attended Saint Louis University. Keith graduated from the International Brotherhood of Electricians Workers Apprentice Training Center in 1989. He was a Journeyman Electrician with I.B.E.W., Local 1 in St. Louis from 1986 until present.

He served on the Florissant City Council in Florissant, Mo. for twelve years prior to being elected to the Missouri House of Representatives in 2012 serving the 68th District until January, 2017. He was a member of the First Baptist Church in Jefferson City and a past member of the First Christian Church in Florissant.

Keith was a man of many talents. He was a former Mixed Martial Arts (MMA) fighter, retiring in 2012 with a record of 10 wins and 0 losses. He loved working with his hands and was always available to friends and family to help with remodeling projects. He and Kelly had aspirations to start their own business, English Charm Home Renovations. They enjoyed traveling, boating and attending Cardinals baseball games. They cherished time with their seven kids and six grandkids. His wonderful personality and great sense of humor made him a favorite of many and he will be greatly missed by all who knew him. Keith had a heart for giving and was able to help others even after his passing as a donor through the Midwest Transplant Network. A part of Keith will live on through the lives he helped to save.

Survivors include: his wife, Kelly N. English; three children, Reanna (Shawn) Cole and their daughter, Olivia, of St. Charles, Mo.; Keith English, Jr., of Florissant, Mo.; and Paige English and her daughter, Nora Fosdick, of Florissant, Mo.; four step-children, Brooke Livengood and her children, Bella, Brenden and Arianna, of Olathe, Ks.; Bryce Sullens of Jefferson City, Mo.; Britney Sullens and her daughter, Lyla Rose, of Jefferson City, Mo.; and Brandyn Sullens of Oviedo, Fl.; his parents, Stephen and Linda English of Florissant, Mo.; five half-sisters and a half-brother, Tina Karsten of Maryland Heights, Mo., Shawn Benefiel of St. Peters, Mo., Debbie Latham of Hillsboro, Mo., Jerry Winkler of Perryville, Mo., Valerie Sebacher of Fulton, Mo., and Victoria Gilbert of Fulton, Mo.; and numerous nieces and nephews.

He was preceded in death by his birth mother and father, Shirley Marshall and Leonard Winkler, and an infant son, Luke.

Visitation will be held at Freeman Mortuary from 3:00 until 5:30 pm Monday, March 5, 2018. A memorial service will follow at 6:00 pm in the Freeman Chapel with Steve Wingfield, Pastor of First Christian Church of Florissant, officiating.

In lieu of flowers, memorial contributions may be given in Keith's name to the American Foundation for Suicide Prevention Greater Mid Missouri Chapter, 602 Market St., #111 Fulton, MO 65251
Funeral arrangements are under the direction of Freeman Mortuary.

Order Flowers