Obituary for Lucille Scott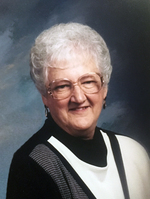 Mrs. Lucille M. Scott, age 92 years, of Jefferson City, Mo., passed away peacefully Thursday, February 22, 2018 in St. Louis, Mo.

Lucille was born July 16, 1925 in St. Louis, Mo, the daughter of Roy J. and Lucille M. (Cash) Buehrle. A lifelong resident of Jefferson City, Lucille was a 1943 graduate of Jefferson City High School. After graduation, she went on to work as an operator with Bell Telephone where she enjoyed 'connecting people'.

Lucille was married to Ralph D. Scott on July 16, 1946 in Jefferson City, Mo. Married for sixty-six years, they treasured their long and happy life together and were an incredible example of a loving partnership. Ralph preceded her in death on September 21, 2012.

Lucille and Ralph, were members of Meadow Lake Acres Country Club some time ago and also very involved in their church, Memorial Baptist, when they were still residing in Jefferson City, Mo. An avid bowler, Lucille bowled for many years in the Wednesday night bowling league. She was a passionate Cardinals fan.

She was an awesome mom to her 3 children putting everyone else's needs ahead of her own. She always had a smile on her face and loved being a 'second Mom' to many.

She spent her last 5 years in Columbia, Mo. at Boone Landing where she made many new friends and was always looking for new game participants. She moved to St. Louis, Mo. in November 2017 to be closer to her daughter.

Lucille enjoyed playing cards, Bingo and other games and traveling on cruises as well as other destinations. She was a professional at completing the "Word Jumbles" in the daily paper. Most importantly, she cherished time with her family. She will be missed by all who knew her.

Survivors include: three children, Gary Lee Scott and his wife Kathryn of Jefferson City, Mo., Karen Ann Karr and her husband Kim of Chesterfield, Mo., and Dr. Randal Alan Scott and his wife Colleen of Jefferson City, Mo.; one brother, Dr. Roy J. Buehrle, Jr. and his wife Joanie of LaCrosse, Wisconsin; five grandchildren, Eric Scott (Erica), Amy Thomas (Matt), Alex Moore, Lindsey Ehlers (Jacob), and Griffin Scott; and three great-grandchildren, Chase Scott, Avery Scott, and Brinley Ehlers.

She was preceded in death by her parents, her husband, one brother, Mel Buehrle, and an infant sister.

Visitation will be at the Freeman Mortuary from 10:00 am until 11:00 am Friday, March 2, 2018.

A memorial service will be conducted at 11:00 am Friday, March 2, 2018 in the Freeman Chapel with the Reverend Dr. Mark Towns officiating. Graveside services and interment will be held at Riverview Cemetery.

In lieu of flowers, memorial contributions are suggested to Mercy Hospice, 1000 Des Peres Road, Suite 200-B, St. Louis, Mo. 63131 or Memorial Baptist Church, 1120 Madison Street, Jefferson City, Mo. 65101.

Funeral arrangements are under the direction of Freeman Mortuary.
Order Flowers