Obituary for Rose Gibler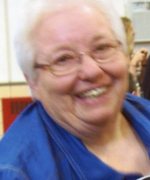 Mrs. Rose Marie (Stone) Gibler, age 77 years, of Jefferson City, Mo. passed away Monday, February 19, 2018 at Barnes-Jewish Hospital in St. Louis surrounded by her daughters.

Rose was born on June 1, 1940 in Jefferson City, Mo. a daughter of George R. and Caroline (Cohrs) Stone. She was married on July 7, 1962 in Jefferson City, Mo. to Howard Thomas Gibler, who preceded her in death in December 1987.

A lifelong resident of Jefferson City, Rose attended East Elementary school, which was special because her daughters later attended the school as well. She was a 1958 graduate of Jefferson City High School where she was on the honor roll and held a 4.0 GPA throughout her education. She later graduated from Jefferson City Junior College and was also presented on October 17, 1974 with a certificate of participation in the Cooperative Extension Program through Lincoln University.

She was employed for 41 years, starting in 1959, with the Missouri Department of Social Services in the Division of Family Services until her retirement in 2000.

She was active with the C.B. Radio Club and served as their secretary and club president for several years. There were numerous times where she presented checks to local fire departments and other organizations with funds raised through donations and jamborees.

She was a member of Calvary Baptist Church where she taught Sunday school and vacation Bible school regularly. Lately she had been attending First Assembly of God.

Rose was an avid reader, who enjoyed tending to her flowers, crocheting, and sharing books with friends. She cherished time camping with family and going on R.V. trips; attending concerts, plays, festivals, movies, and theme parks; and exploring garage sales with her daughters and grandchildren. She loved taking care of her family and supporting them in any way. She will be remembered for her outgoing personality and caring nature.

Survivors include: two daughters, Genine Gibler (significant other, Jeff Wilkerson) and Debra Carey (husband, Jeremy Carey), both of Jefferson City, Mo.; three grandchildren, Caden Wilkerson, Brandon Wilkerson and Devin Wilkerson; and numerous nieces, nephews, and cousins.

She was preceded in death by her parents; her loving husband of 25 years, Howard; one sister, Betty Ann Britton; and one brother, William "Bill" Stone.

Visitation will be held at Freeman Mortuary from 2:00 p.m. until 3:00 p.m. Wednesday, February 28, 2018.

A funeral service will be conducted at 3:00 p.m. Wednesday, February 28, 2018 in the Freeman Chapel with the Reverend Lowell Perkins officiating. Graveside services and interment will be held at Hawthorn Memorial Gardens.

In lieu of flowers, memorial contributions are suggested to the American Heart Association.

Funeral arrangements are under the direction of Freeman Mortuary.
Order Flowers