Obituary for Garry Viebrock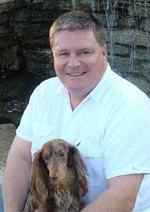 Mr. Garry Wayne Viebrock, age 58 years of Jefferson City, Mo. passed away, due to natural causes, Friday, February 16, 2018 at his home.

He was born on October 27, 1959 in Sedalia, Mo., the son of Lorenz Edgar and Geneva L. (Weinberg) Viebrock.

A lifelong resident of the Central Missouri area, Garry was a 1977 graduate of Smith Cotton High School in Sedalia, Mo.

Garry was employed with the Missouri Department of Transportation as their Senior Railroad Safety Inspector from 1992 until his retirement in 2010. He has previously worked as a signalman for Missouri Pacific and Union Pacific railroads from 1978 until 1992. After retirement, Garry enjoyed working at NAPA Auto Parts.

Garry had a love for all things pertaining to trains. In addition to his career dedicated to the railroad, he collected railroad memorabilia. He loved dachshund dogs, especially his beloved Oscar and Ava. Garry was also very talented in tackling do-it-yourself projects and enjoyed updating and remodeling his home in his spare time. He was proud to volunteer his time at the Jefferson City Animal Shelter.

Survivors include: his two daughters, Kaitlin M. Viebrock of Kansas City, Mo. and Lindsey D. Viebrock of Kansas City, Mo.

He was preceded in death by his parents and his dog, Oscar.

To celebrate his life, Garry's family will be holding a private memorial service and inurnment at a later date.

In lieu of flowers, memorial contributions are suggested to the Jefferson City Animal Shelter.

Funeral arrangements are under the direction of Freeman Mortuary.

Order Flowers