Obituary for Betty Singleton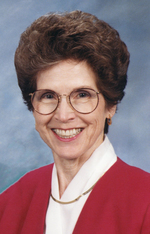 Mrs. Betty Jo Singleton, age 87 years, of Jefferson City, Mo., died Wednesday, February 14, 2018 at her home surrounded by her family.

Betty was born April 9, 1930 in Stillwater, Oklahoma the daughter of Leonard L. and Floy Bohannon Brooks. She was married in 1948 to Paul F. Sanders who preceded her in death on July 21, 1989. On November 28, 1992 in Jefferson City, Mo., she married Harry Marvin Singleton.

Betty graduated from Central High School in Tahlequah, Oklahoma in 1948 and from Southeast Missouri State University in Cape Girardeau, Mo. in 1952 with a degree in business.

She and her first husband served in the Peace Corps from 1962 until 1964 in British Honduras, where she taught arithmetic, typing, shorthand and bookkeeping in Belize City. She also worked with the Education Department and the Treasury Department setting up a library and installing a new filing system.

A resident of Jefferson City since 1995, Betty was a member of First Assembly of God Church. She enjoyed traveling, bird watching, playing the piano, playing dominoes and putting together puzzles with her family. Most importantly, she cherished her time with her family.

Survivors include: her husband of twenty-five years, Marvin Singleton; three step daughters, Linda (Rick) Davis of Ponder, Texas, Joni (Larry) Dyer of Ozark, Mo., and Teresa (Marty) Stangl of Jefferson City, Mo.; five grandchildren, Misty (Scott) Vystrcil of Krum, Texas, Joshua Davis of Ponder, Texas, Nicole Dixson of Springfield, Mo., Lance (Ashley) Dyer of Republic, Mo., and Caleb Stangl of Jefferson City, Mo.; five great-grandchildren, Riley Powell, Levi and Elijah Davis and Nina and Kaiden Dixson; two brothers, Paul (Frances) Brooks of Nowata, Oklahoma and John (Libby) Brooks of Ft. Worth, Texas; and two sisters, Mary (Frank) Bryant of Bedford, Texas and Esther VanDyck of Mt. Shasta, California.

She was preceded in death by her parents, her first husband, and one sister, Elinora Nicholson.

Visitation will be at First Assembly of God from 1:00 until 2:00 pm Saturday, February 17, 2018.

Funeral services will be conducted at 2:00 pm Saturday, February 17, 2018 at First Assembly of God with the Reverend Ray Brewer officiating. Interment will be at Riverview Cemetery.

In lieu of flowers, memorial contributions are suggested to Alzheimers Disease and Related Disorders Assn.

Funeral arrangements are under the direction of Freeman Mortuary.
Order Flowers