Obituary for Carlos Hamacher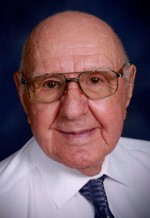 Mr. Carlos E. Hamacher, age 95 years, of Jefferson City, Mo. passed away peacefully Saturday, February 3, 2018 at home surrounded by family.

Carlos was born on June 30, 1922 in Etterville, Mo. a son of Fritz Rudolph and Lena (Frank) Hamacher. He was married on May 17, 1946 to Laurentia Lueckenhoff, who preceded him in death on June 13, 2017.

A lifelong resident of the central Missouri area, Carlos was a 1941 graduate of Eugene High School in Eugene, Mo.

After high school Carlos served our country in the United States Army during World War II. He was awarded five good conduct medals and one Bronze Star for campaigns in Sicily, Naples-Foggia, Rome-Arno and Rhineland.

He was employed with the Missouri National Guard following his military service and then with the International Brotherhood of Electrical Workers (IBEW #257) as an electrician for 21 years until his retirement in October 1984.

He was a member of St. Peter Catholic Church and was active with the St. Peter Holy Name Society. He was proud to be a fourth degree Knights of Columbus. He was also a member of the Veterans of Foreign Wars, Basinger/Sone Post 1003; American Legion, Roscoe Enloe Post 5; and the Fraternal Order of the Eagles, Aerie 2693.

He enjoyed woodcrafting, fishing and hunting; was an avid follower of Cardinal baseball and Notre Dame football; and enjoyed time with family and friends at his Lake of the Ozark cabin.

Survivors include: one son, Sam Hamacher (Connie) of Jefferson City, Mo.; two daughters, Sue Adrian (Glen) of Lenexa, Kansas and Mary Miller (Brett) of Jefferson City, Mo.; one brother, Bill Hamacher of Holts Summit, Mo.; one sister-in-law, Norma Shorter of Jefferson City, Mo.; seven grandchildren, Matthew Adrian (Claire) of Carl Junction, Mo., Marcus Adrian (Angela) of St. Louis, Mo., Meghan Nichols (Jeffrey) of Lenexa, Kansas, Michael Adrian (Kara) of Kirkwood, Mo., Brian Hamacher of Rocky Mount, Mo., Elizabeth Miller of Jefferson City, Mo., and Lisa Miller of Ashland, Mo.; and fifteen great-grandchildren.

He was preceded in death by his parents; his loving wife of 71 years, Laurentia Hamacher; one sister-in-law, Marie Hamacher and three brothers-in-law, Dean Shorter, Leo Lueckenhoff and Larry Lueckenhoff.

Visitation will be held at St. Peter Catholic Church from 10:00 a.m. until 12:00 p.m. Thursday, February 8, 2018.

Mass of Christian Burial will be conducted at 12:00 p.m. Thursday, February 8, 2018 at St. Peter Catholic Church with the Reverend Simeon Etonu officiating. Entombment with military honors will follow in the Mausoleum of Resurrection Cemetery

In lieu of flowers, memorial contributions are suggested to the Helias Foundation or to masses at St. Peter Catholic Church.

Order Flowers