Obituary for Albert Able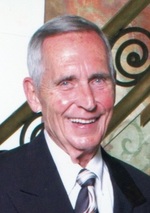 Mr. Albert T. Able, age 87 years, of Jefferson City, Mo., passed away Monday, January 29, 2018 at Jefferson City Manor surrounded by his loving family.

Al was born September 18, 1930 in Atchison, Kansas the son of Albert and Anna E. (Peterson) Able. He was married on December 27, 1954 in Kansas City, Mo. to Rosemary Fisher.

He was a 1947 graduate of East High School in Kansas City, Mo.

Al served in the United States Army in Korea during the Korean Conflict in the 2nd Infantry Division. He was honorably discharged as a Sergeant in June 1953.

He was employed with Commerce Trust Company in Kansas City, Mo. for 19 years prior to moving to Jefferson City in 1967 when he joined the Central Bank team. He worked for 41 years at Central Bank creating and heading up the computer department for data processing until his retirement on August 31, 1998. He continued to work at Central Bank on special projects for the next 12 years during his retirement.

He was a member of the First Christian Church. Al was a past board member of the Special Learning Center, a past president of Data Processing Management Association, and a member of the Veterans of Foreign Wars, Post 1003. He enjoyed volunteering at Capital Region Medical Center, Goldschmidt Cancer Center and helping with the United Way campaigns.

In his younger years, Al loved to play tennis and go square dancing with his wife. Most of all, he cherished time traveling all over the world with family. He was an avid reader of both history and suspense and he enjoyed the daily glass of wine.

Survivors include: his wife of 63 years, Rosemary Able; three children, Matthew J.A. Able (wife Barbara) of Leawood, Ks., Michelle L.A. Martin (husband Terry) of Jefferson City, Mo., and Mark G.A. Able (wife Anita) of Overland Park, Ks.; one sister, Irene Conwell of Kansas City, Mo.; eight grandchildren, Christopher Able (wife Kelsey), Allison Able, Sarah Jane Kuipers (husband Zach), Travis Able; Patrick Martin (wife Amber), Jennifer Snyder (husband Dillon), Daniel Able and Kevin Able; 5 great grandchildren, Samuel Martin, Silas Martin, Charlie Martin, Liam Snyder, Brock Able, and two more due in March and April 2018.

He was preceded in death by his parents and his brother-in-law, Harry Conwell.

The family would like to thank the staff at Jefferson City Manor for all of the love and support they showed to Al during his last week.

Visitation will be held from 4:00 p.m. until 6:00 p.m. Wednesday, January 31, 2018 at the First Christian Church.

A funeral service will be conducted at 1:00 p.m. Thursday, February 1, 2018 in the Freeman Chapel with the Reverend Beau Underwood officiating. Graveside services and entombment with military honors will be held in the Mausoleum of Hawthorn Memorial Gardens.

In lieu of flowers, memorial contributions are suggested to the Special Learning Center, Shriner Children's Hospital or Hospice Compassus.

Funeral arrangements are under the direction of Freeman Mortuary.
Order Flowers