Obituary for Mildred Ettleman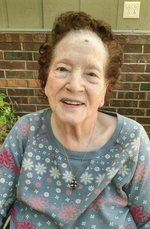 Mildred Pauline (Snow) Ettleman, 99, passed away Monday, January 29, 2018, at the Villa Marie Skilled Nursing Facility in Jefferson City, Mo.

Mildred was the last of eight children born to Jeremiah Newton Snow and Mary Leona (Kariker) Snow on November 30, 1918 on a farm near Albany, Mo. When Mildred was only 12, she left her family home and boarded with the Rev. Harold Reeves and his family so that she could attend high school. Mildred did housework and babysat the Pastor's children to earn her room and board. She graduated Salutatorian of her class in 1935 when she was 16. Circumstances did not permit Mildred to receive any higher education.

Mildred worked in a laundry mat for a couple of years (her least favorite job), got a job as Clerk at the Gentry County Courthouse, and then acquired a bookkeeping job at the Triple A (Agricultural Adjustment Act) office in Albany, Mo, which provided services to farmers in the surrounding counties. It was there that Mildred met Andrew Ettleman and they were married August 14, 1943. They had five children—twin boys, Roger and Rodney; two daughters, Donna and Mary; and another son, Kelly. Andy and Mildred had been married for 65 years when Andy passed away in 2008.

Mildred and Andy became business partners with Robert and Vasta Bentley in 1954 and named their enterprise "Country Boys Lumber Co.". During the thirty plus years of partnership, the company owned and operated several lumber companies, concrete plants, gas stations and a grain elevator, which were all located in Northwest Mo. and Southwest Iowa. The businesses specialized in manufacturing portable farm buildings. Also Country Boys built over 200 custom residential homes in the various communities their businesses were located. Mildred's contribution to the partnership was being in charge of the "books". Mildred had found her "calling" in life as she established all the bookkeeping functions for the varied and extensive holdings of the "Country Boys". Mildred was meticulous when working with figures and thoroughly enjoyed the structure and science of accounting.

Mildred and Andy retired to a home situated on the 59th mile marker of the Lake of the Ozarks in 1986 and cultivated many happy and pleasant memories with their kids and grandkids. As their health began to decline, they moved to Jefferson City, Mo. to be closer to their daughter, Donna and her husband Mick.

Mildred was a 50 plus year member of the Rebekah Lodge; a member of several General Federated Women's Clubs; and a dedicated Christian, faithfully serving her God, Church and communities in the various places she lived. Mildred was an avid reader; loved to play cards (Pitch); was a talented quilter; crocheted numerous baby blankets for "Afghans for Angels" and watched movies on a daily basis, acquiring a vast, personal VHS movie library she was quite proud of. Mildred always looked forward to the start of baseball season (all 162 games), as she was a "die hard" Cardinals fan, watching her favorite player, Yadier Molina.

Mildred was preceded in death by her son, Roger (1943); her son, Rodney (1972); her grandson, Joshua Jones (2004); her husband, Andy (2008); her son, Kelly (2009); and her daughter, Mary (2015).

Left to cherish her memory is her daughter, Donna Jones (Mick); her grandson, Shane Jones (Rebecca); her great grandsons, Austin, Zachary, and Cooper Jones, all of Jefferson City, Mo.; her grandson, Andy Gentry (Brianna) and her only granddaughter, Hollie Lloyd (James) and step-great grandson, Alex Lloyd, all from Shreveport, La.

Visitation will be at Freeman Mortuary from 9:00 a.m. until 10:00 a.m. Saturday, February 3, 2018 with her funeral service following at 10:00 am in the Freeman Chapel with the Reverend David Avery officiating.

Gravesides services and interment will be held at 4:00 p.m. Saturday at Grandview Cemetery in Albany, Mo.

Those desiring may make memorial contribution to the River City Habitat for Humanity of Jefferson City, Mo.

Funeral arrangements are under the direction of Freeman Mortuary.
Order Flowers