Obituary for Nolen Rinne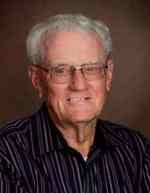 Mr. Nolen H. Rinne, age 88 years, of Holts Summit, Mo., passed away Sunday, January 28, 2018, at his home.

Nolen was born November 25, 1929, in Morrison, Mo., the son of Charles F. and Lucy C. (Schulte) Rinne. He was married on April 21, 1956, in Linn, Mo. to Eunice J. Landwehr who preceded him in death on November 28, 2016.

A longtime resident of Holts Summit, Nolen was a 1947 graduate of Chamois High School and a 1966 graduate of Linn State Technical College with certification in drafting.

He served in the United States Air Force from 1948 until 1954 during the Korean War in the Communications Security Squadron. He was stationed at Hickam Air Force Base in Honolulu and later Kelly Air Force Base in San Antonio, Texas. From 1954 until 1960, he was in the Air Force Reserves with the 9718 Air Reserve Squadron in Kansas City, Mo.

Before joining the military, Nolen was employed as a line worker with General Motors in Kansas City, Mo. After his military service, he worked as a draftsman with the Write Point Factory in Hermann, Mo. He was then employed in drafting and engineering in Jefferson City for more than 30 years with McGraw Edison and Jefferson City Manufacturing. He retired from there in 1992 as head of engineering.

He was a 40-plus year member of Wesley United Methodist Church and a 60-plus year member and past Worshipful Master of the Masonic Lodge, currently a member of the Jefferson Lodge No. 43, A.F. & A.M.

Nolen enjoyed fishing, hunting, and cross-country trips with his wife and two daughters to national parks in Colorado, Wyoming, Tennessee and more. He spent many hours fishing at Bennett Springs, Montauk and other Missouri state parks and on the Gasconade River, along with trips to Branson and Table Rock Lake. When he wasn't fishing or having fun with his daughters, he was tinkering in the garage, taking things apart and occasionally putting them back together.

Survivors include: one daughter, Carol Clark and her husband, Stephen, of Kirkwood, Mo.; one son-in-law, Eugene Young of Inverness, Ill.; four grandchildren, Christina Young Schroeder and her husband, Karl, of Gurnee, Ill., Lauren Young Fitzgerald and her husband, Evan, of Sanford, Fla., Lily and Luci Clark of Kirkwood, Mo.; three great grandchildren, Kiersten Schroeder of Gurnee, Ill., and Gemma and Jacob Fitzgerald of Sanford, Fla.

He was preceded in death by his parents; his wife of 60 years, his daughter, Denise Lynn Young, in 1996; his sister, Norma J. Feagan; and his brother, Vernon Rinne.

Visitation will be at Freeman Mortuary from 5:00 until 7:00 p.m., Wednesday, January 31, 2018, with a Masonic Service to be conducted at 4:15 p.m. in the Freeman Chapel under the auspices of the Jefferson Lodge No. 43, A.F. & A.M.

Funeral services will be conducted at 11:00 a.m. Thursday, February 1, 2018, at Wesley United Methodist Church with the Reverend Tom Vansant officiating. Graveside services and interment with military honors will be held at 2:30 p.m. Thursday at Zoar Methodist Cemetery in Drake, Mo.

In lieu of flowers, memorial contributions are suggested to Wesley United Methodist Church.

Funeral arrangements are under the direction of Freeman Mortuary.
Order Flowers