Obituary for Mary Albin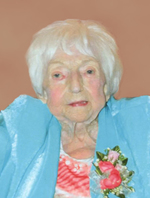 Mrs. Mary L. Albin, 95, of Jefferson City, Mo., passed away Thursday, January 25, 2018 at Villa Marie with family by her side.

Mary was born July 13, 1922 in Moniteau County, Mo. a daughter of Charles and Lavada (Proctor) Gracy. She was married on June 23, 1947 in Tipton, Mo. to John W. Albin.

A lifelong resident of the Central Missouri area, Mary was a 1941 graduate of Eldon High School.

Mary began working right after high school at California Manufacturing, and later worked for Tipton Manufacturing, where she met her husband, John. She eventually retired as a machine operator with Chesebrough-Ponds, Inc. in 1985.

Mary was also a devoted homemaker and made countless homemade meals, pies and cakes. She also took care of others by sewing and making quilts for family and friends. After retiring, she and John traveled to the Gulf Coast, and made many trips to Branson, Silver Dollar City and Springfield.

Survivors include: her daughter, Christy L. Bell (husband, Victor) of Jefferson City, Mo.; granddaughter, Michelle S. Bell-Arce (husband, Armando); several nieces and nephews; and her two cats, Megan and Tinkerbell.

She was preceded in death by: her parents; her husband of 54 years, John; daughter, Debra Jean Albin; son, Richard Lee Albin; three sisters, Pauline Cox, Maxine Snyder, and Blanche Allee; and two brothers, John Gracy and Harold Gracy.

Visitation will be at Freeman Mortuary from 12:00 until 1:00 p.m. Wednesday, January 31, 2018.

Graveside services will be held at 2:00 p.m. Wednesday, January 31, 2018 at the Masonic Cemetery in Tipton, Mo. with the Reverend Greg Morrow officiating.

In lieu of flowers, memorial contributions are suggested to Jefferson City Animal Shelter or the American Heart Association.

Order Flowers