Obituary for Stanley Williams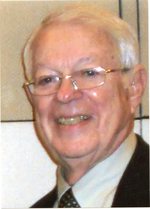 Mr. Stanley E. Williams, age 87 years, of Jefferson City, Mo., died Friday, January 26, 2018 at St. Joseph Bluffs.

He was born July 7, 1930 in Nevada, Mo. the son of E. Paul and Nellie Ford Williams. He was married on March 4, 1949 in Brookfield, Mo. to Mary Ann Ford.

Stan was a 1948 graduate of Brookfield High School and a 1960 graduate of Northeast Missouri State Teachers College, currently known as Truman State University, with a B.S.E. in Business Education. He then received a Master's Degree in Business Education in 1961.

Stan proudly served his country in the United States Navy from 1948 until 1957 during the Korean War.

He was a member of the Community Christian Church. He enjoyed gardening, traveling, and most importantly, he cherished time with his family.

After graduation, he taught at Strathmore Union High School in Strathmore, California from 1960 until 1962. Stan served as an instructor of Business Education at Northeast Missouri State Teachers College from 1962 until 1968. He then became the Administrative Assistant to the Dean of Instruction from 1968 until 1969. From 1969 until 1975, he served as the Assistant Director of Institutional Research at Illinois State University in Normal, Illinois.

In 1975, he became employed with the Missouri State Highway Patrol as Assistant Director of Information Systems until his retirement in 1994.

Survivors include: his wife of sixty-nine years, Mary Ann Williams; three daughters, Brenda Moore (David) of Kirksville, Mo., Ellen Clithero (David) of Columbia, Mo., and Susan Newbold (Mark) of Jefferson City, Mo.; one son, Brad Williams (Elizabeth) of Phoenix, Arizona; eleven grandchildren, John Moore (Kim) of Kirksville, Mo., Bryan Moore (fiancé Carrie Erwin) of Kirksville, Mo., Daniel Moore (Amanda) of Wellington, Colorado, Adam Moore (Laura) of Kirksville, Mo., Brett Moore (Jennifer) of Columbia, Mo., Shawn Piland of St. Louis, Mo., Scott Piland (Sunshine) of St. Joseph, Mo., Caty Newbold of Osage Beach, Mo., Blake Newbold of Columbia, Mo., Parker Williams of Phoeniz, Arizona, and Evan Williams of Phoenix, Arizona; seventeen great-grandchildren; one sister, Martha Noah of Marceline, Mo.; and numerous nieces and nephews.

He was preceded in death by his parents and two brothers, Paul Williams and Loren Williams.

Visitation will be at Freeman Mortuary from 1:00 until 2:00 pm Tuesday, January 30, 2018.

Funeral services will be conducted at 2:00 pm Tuesday, January 30, 2018 in the Freeman Chapel with the Reverend Bethany J. Imbler Albrecht officiating. Private graveside services and interment with military honors will be conducted at Riverview Cemetery.

In lieu of flowers, memorial contributions are suggested to the Junior Adaptive Athletes in Motion (JAAM) Foundation, P.O. Box 30552 Phoenix, Arizona 85046 or Hospice Compassus, 600 Monroe St., Jefferson City, Mo. 65l0l

Funeral arrangements are under the direction of Freeman Mortuary.
Order Flowers